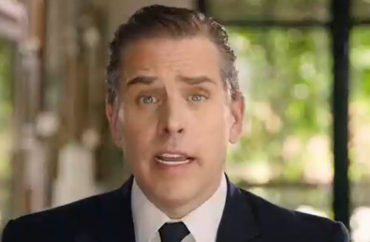 New Orleans' nickname is "The Big Easy," but students at Tulane University are hoping that also describes the class in which Hunter Biden will soon be a guest lecturer.
Biden, the controversial 51-year old son of President Joe Biden, is scheduled to give a talk on "fake news" in a course called "Media Polarization and Public Policy Impacts."
According to Fox News, the class is meant to focus on "the current state of the media landscape in the United States and how media polarization, fake news and the economics of the new business impact public policymaking in Washington D.C."
Biden became a national figure in late 2019 when the subject of his employment at a Ukrainian energy company became the basis for the impeachment of President Donald Trump. According to the articles of impeachment filed against Trump, the president had promised the Ukrainian president diplomatic favors in exchange for dirt on Joe and Hunter Biden's activities in Ukraine, including Hunter's lucrative position on the board of directors at Burisma.
Biden again made the news in the lead-up to the 2020 presidential election, when the New York Post reported a laptop of his had been found containing evidence Biden had tried in 2015 to set up a meeting between his father – then the U.S. vice-president – and an executive of a Ukrainian energy firm. In more recent interviews, Biden has said the laptop "could be" his and it "could" have been stolen from him.
Hunter Biden is also known for various scandals involving sex and drugs. Earlier this year, the Department of Justice announced it would be conducting an investigation into Biden's business dealings in China.
It is unclear what expertise Biden has in "media polarization," as he has been the target of media reports, not the creator of such reporting. By this standard, any controversial figure who has been the subject of a series of media stories could make a claim that they were an "expert" in how such reporting is cultivated and disseminated.
Fox News reports that other lecturers for the 10-week class include Dr. Deborah Birx, New Yorker columnist Susan Glasser, Washington Post media columnist Margaret Sullivan, New York Times columnist Bret Stephens, CBS' "Face The Nation" moderator Margaret Brennan, CNN correspondent Kylie Atwood, and Fox News political analyst and "The Five" co-host Juan Williams.
MORE: Cornell student: Twitter suspended me for posting notorious picture of Hunter Biden
IMAGE: DNC Screenshot
Like The College Fix on Facebook / Follow us on Twitter