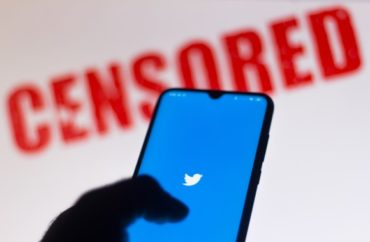 UPDATED
OPINION: We must reject Big Tech tyranny before it is too late
Twitter has suspended me for a tweet I posted of a picture featuring Hunter Biden in his underwear that had been found on his laptop.
I asked in my tweet above the notorious picture, which has circulated in news outlets and on social media for months: "Imagine if this was Don Jr. instead of Hunter Biden?"
My tweet was deleted by Twitter and my account was suspended for "violating our rules against sharing privately produced/distributed intimate media of someone without their express consent," the social media giant told me in a message.
While my account is still visible, I cannot tweet or retweet from it and am effectively locked out.
Twitter informed me that I needed to personally delete the censored tweet to begin a 12-hour countdown to restore functionality or appeal the alleged "violation." I decided to appeal.
First, I reject the premise that the picture constitutes "intimate media." Hunter Biden is wearing a scarf and underwear, and at least from the angle from which the picture was taken, they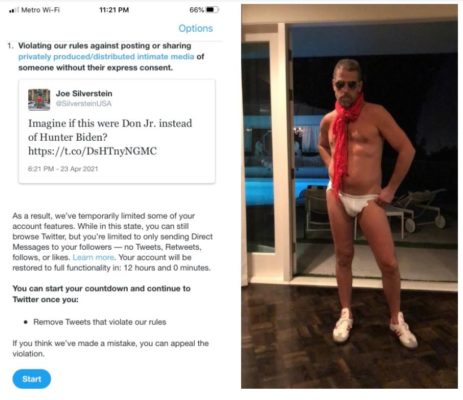 provide the same coverage as would a speedo if he were walking on a beach. With the scarf, one could argue he is even more clothed than he might be at the beach.
As for Twitter's contention that the "intimate media" was distributed without the express consent of the subject, this demonstrates its hypocrisy.
Last year, pictures were circulated which falsely alleged to show Mayor Rudy Guiliani masturbating during a "Borat" prank movie. The photos were not removed, even after such allegations were debunked, and the users who posted them were not suspended.
Both Donald Trump and Rudy Giuliani have now "won" the Razzie for Worst Supporting Actor.

Trump won in 1991 for 'Ghosts Can't Do It' and Giuliani in 2021 for 'Borat Subsequent Moviefilm' pic.twitter.com/a9QEHqJma8

— Marlow Stern (@MarlowNYC) April 26, 2021
Not only does the suspension fail to meet the threshold for Twitter's own arbitrary policy, but, more importantly, it violates the spirit of the First Amendment.
My tweet and the accompanying photo was a political statement meant to point out the hypocrisy of the media's coverage of the Hunter Biden scandal.
My point was that if it were President Donald Trump's son, Don Jr., depicted in racy photos, the mainstream media would have covered it in the weeks leading up to the election and social media platforms would not have blocked its distribution.
This underwear photo comes from a larger batch of photos and documents found on Hunter Biden's laptop that raise serious questions about his personal life, business dealings, and foreign entanglements.
At a Senate Judiciary Committee hearing in November of last year, Twitter CEO Jack Dorsey himself admitted that censoring a New York Post story on the contents of Hunter Biden's laptop was a mistake.
But Dorsey's opinion on these matters should hold no relevance. Twitter's "terms of service" cannot take precedence over the United States Constitution.
According to a survey conducted by the Media Research Center, 16 percent of Joe Biden voters would not have voted for him in the 2020 presidential election had they been aware of the FBI investigation into the Hunter Biden scandal.
Twitter, Facebook and Instagram's decision to block the distribution of these materials helped sway the election for Joe Biden.
Twitter, and Big Tech more generally, cannot be the arbiter of free speech in the United States.
Especially in the time of COVID-19, social media platforms have become the primary means by which Americans engage in political dialogue and debate. These platforms have become the public square, and need to be treated as such.
As a believer in free markets and capitalism, I tend to support policies that empower business owners to make decisions for their companies. However, Twitter and other social media companies have benefited far too long from Section 230 of the Communications Decency Act.
Under Section 230, social media companies are exempt from lawsuits against the content posted on their sites because they are treated as platforms rather than publishers. However, by arbitrarily removing content, and more specifically, political speech that does not violate U.S. law, they are acting as publishers. These protections and unfair market advantages must be revoked immediately.
The First Amendment must never bend to the will of Big Tech tyrants. By deplatforming a sitting president, Donald Trump, Twitter asserted itself as being more powerful than the democratically elected leader of the United States. This is unacceptable.
Twitter's bias enforcement of its ad hoc rules and policies have suppressed free speech in America. According to a Quinnipiac poll, 34 percent of American voters and 77 percent of Republicans believe Joe Biden's "victory" in the 2020 presidential election was illegitimate. However, very few people talk about this anymore. Why? Their accounts will be suspended from Twitter for spreading "disinformation."
If we are to survive as a Republic, people must be permitted to voice their opinions and concerns without fear of severe punitive action, such as being suspended by Twitter, or worse, financially destroyed.
While Twitter's censorship of conservative perspectives may not violate the text of the first amendment, it certainly violates the spirit of it. We must reject Big Tech tyranny before it is too late.
MORE: Facebook slaps warning on College Fix cartoon that lampooned criticism of Dr. Seuss
Editor's note: The article has been updated with more information on Section 230 of the Communications Decency Act.
IMAGE: Rafa Press/Shutterstock
Like The College Fix on Facebook / Follow us on Twitter