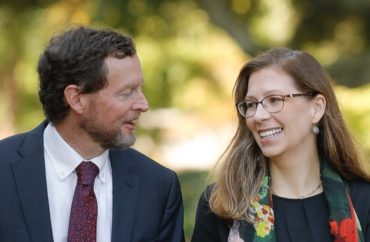 'Our education system bombards students with choices but fails to help them choose well'
Benjamin Storey and Jenna Silber Storey study and write outside of academia. Formerly professors at Furman University, they now work as senior fellows at the American Enterprise Institute, a conservative think tank. They've also each written for The Wall Street Journal, The Washington Post, National Review, and First Things.
The College Fix recently interviewed the Storeys by email to discuss the benefits of working outside the university and the importance of a liberal arts education — inside or outside the ivory tower.
The following interview has been edited.
The College Fix: The two of you became senior fellows at the American Enterprise Institute in July. What do you see as the advantages and disadvantages of working outside of academia?
Benjamin Storey and Jenna Silber Storey:  Within colleges and universities, your work is deemed successful if it stands up to the pressures of what other academics have written. Writing for a broader audience requires your points to resonate with ordinary people's everyday experience. 
The greatest disadvantage seems to be that writers outside the academy lack peers who make judgments about what is and is not valid. We are lucky, however, to have a wonderful group of writers at AEI who provide face-to-face community and give us thoughtful feedback on our work. 
College Fix: How would you distinguish what you want to accomplish at AEI from what you wanted to accomplish as a university professor?
BS & JSS: As professors, we tried to give each of our students the opportunity to think more clearly about their own assumptions and aspirations by studying the history of political philosophy. 
In our new jobs, we have significantly more time and support for scholarship and writing. We are also now able to consult regularly with people around the country who are actively involved in liberal education. 
College Fix: In your August New York Times article, 'The Art of Choosing What to Do With Your Life,' and in your book, 'Why We Are Restless,' you address college students' indecision. Do you think that the restlessness that you describe is a result of the colleges themselves?
BS & JSS: Our education system bombards students with options but doesn't help them choose well. If someone from another time were to see today's students' packed resumes, that person might see in all that variety and activity a sign of instability and unhappiness.
Modern life inside and outside college tends to exhaust our ability to choose, and may result in psychological disorders.
College Fix: You have both talked a lot about the importance of the works of great thinkers and books in learning to make meaningful decisions. How can students engage with these works?
BS & JSS: One does not need a university to read great thinkers. Often a good book, some quiet hours, a few friends, and perhaps a more experienced reader are the only essential equipment.
College Fix: Jenna, you wrote in November 2021 on the need for classical education and its importance in a liberal democracy. What is classical education, and what is its  significance today?
JSS: Classical education aims to make students aware that we all make decisions according to the truth we want to understand, the good we want to embody, and the beautiful things we want to honor. 
Understanding that we are motivated by these ideas allows us to have conversations that are enticing rather than frightening. 
Classical education also provides a healthy contrast to the way much of education is now oriented: toward criticizing. The positive orientation of classical schools inspires us with better examples and gives us hope in our ability to improve.
College Fix: Benjamin, you have suggested that we can't blame our distraction entirely on technology; distractedness is part of human nature. How can classical thinkers help us understand our nature today?
BS: Much of what is worth knowing about human nature can be learned from old stories and arguments, from the rage of Achilles in "The Iliad" at the fact of death, to the understanding of conscience in Thomas Aquinas. Classic authors give us the shock of recognition: the realization that what is going on in the soul of some person very distant in time, place, and customs is the same thing that is going on in my own soul.  
These works help us know that we are engaged in a struggle, not merely with the injustices and irrationalities of our own time and place, but with injustices and irrationalities within ourselves. And they remind us that the first duty of human life is to get one's own soul in order. That lesson is, I think, always liberating.
MORE: Jordan Peterson: 'You will suffer in life; rise above it'
IMAGE: Furman University
Like The College Fix on Facebook / Follow us on Twitter