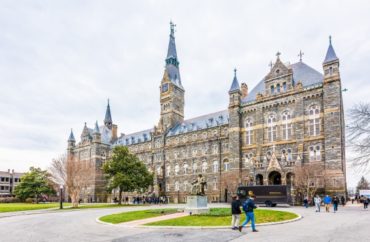 Earlier this month Georgetown University students were called to account for a decision made in 1838 by the institution's founders. Nearly 180 years ago in a horrific act of evil, the head Jesuits at the then-struggling Catholic university sold 272 slaves — men, women and children — to Louisiana plantations to keep the school afloat.
The hypocrisy and shame of this decision cannot be understated. But as an undergraduate enrolled at Georgetown University today, in 2019, it was not my choice, nor my classmates', and none of us are even remotely guilty of this heinous act.
Yet on April 11 a majority of my classmates approved a student government measure seeking to raise our annual tuition to create a fund benefiting the descendants' families today.
Many of my peers who voted yes insist we owe this money. They claim that our benefits from a Georgetown education implicate us in these historical sins. I reject this argument.
I don't owe reparations for slavery. In fact, none of us do.
This "collective guilt" justification depends on the destruction of the individual that is antithetical to our nation's founding and my university's principles. It's authoritarian and regressive, extremely dangerous in its own right. To suggest that I am guilty and owe a debt for a crime I never committed is little more than a gaslighting fraud.
The notion that the sins of centuries' past carry down through bloodlines, or even institutions, represents a risky step backward in our trek toward freedom. I would never participate in the disgusting practice of slave trade and thus shouldn't face the repercussions.
Besides, nearly all of America, and the vast majority of the world for that matter, was at least originally constructed on the back of slave labor. Historical conquering and bloodshed leaves no hands clean. Taking this corrosive collectivism to its logical conclusion, everyone's ancestors owe another's something. We would all be paying each other in an infinite regress.
There is simply no limiting principle. At Georgetown, for example, students voted to essentially tax themselves $27.20 per semester to honor the 272 slaves sold. The fee is purely symbolic, an arbitrary dollar amount charged to innocent students as they pursue their degrees.
But why not $500 a semester, or $1,000? What's the value of the human lives sold all those years ago? Infinite I would suppose.
Ultimately, charitable giving must be a choice. I've contributed to the Georgetown Memory Project and I implore you to do the same. This nonprofit uses historical and biological resources to assist the descendants of the slaves sold by Georgetown.
It's one good cause among many. We can all chip in more to help our neighbors, especially those who may not know their history. There are limitless ways Americans should and do support each other, but no one absent that harbor two centuries ago deserves blame for this atrocity.
The views in this article do not represent those of the Department of Defense or the United States Army.
MORE: Why I voted 'no' on Georgetown reparations plan
MORE: Georgetown students file complaint to nullify reparations vote
IMAGE: Anthony Blotkin / Shutterstock
Like The College Fix on Facebook / Follow us on Twitter