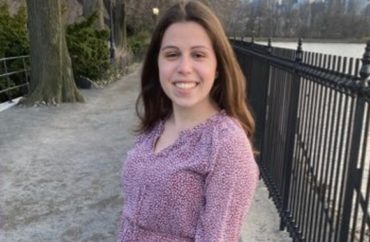 'This editorial does not even affirm support for Jewish self-determination'
An editor at The Harvard Crimson wrote in support of Israel in a May 4 op-ed against Boycott, Divestment and Sanctions.
Her opinion piece responded to a recent unsigned essay from the Crimson editorial board that supported the pro-Palestine political movement. BDS supporters want Harvard to cut ties with companies that engage in business with Israel.
"I have worked for The Crimson since freshman year, and it has been an integral part of my time at Harvard," Natalie Kahn (pictured) wrote. She is associate news editor and the president of Harvard Hillel.
"But integral as The Crimson has been, I am first and foremost a Jew; and in light of the role Israel plays in my people's history as our homeland and haven from persecution, I am a Zionist, and I stand with Israel," she stated.
"The Boycott, Divestment, and Sanctions movement — overwhelmingly condemned by Congress in a 2019 resolution passed 398-17 — is not just a boycott; BDS rejects Jewish self-determination altogether, she wrote.
She quoted BDS founder Omar Barghouti who said that Palestinian activists "most definitely…oppose a Jewish state in any part of Palestine."
My response to last Friday's anti-Israel and anti-Zionist staff editorial endorsing @BDSmovement @CrimsonOpinion @thecrimson https://t.co/PCcyhS0X2p

— Natalie Kahn (@NatalieLKahn) May 4, 2022
Barghouti also declared that that Palestinians have a right to "resistance by any means, including armed resistance."
Kahn also wrote that The Harvard Crimson staff editorial "fail[ed] to condemn Palestinian terrorism or the charter of Hamas — the governing regime elected to power in Gaza in 2006 — that explicitly calls for the annihilation of the Jewish people."
Kahn continued,
Israel is not perfect, nor is any other country. But this editorial is part of a larger trend of singling out Jews, conveniently neglecting our half of the story — and by extension our right to self-determination — while claiming to "oppose antisemitism."

Judaism is not just a religion; the Holocaust is only one of many examples of Jews targeted as a people. Exiled after centuries in the Land of Israel, the Jewish people have always been outsiders — they have been pushed out of Europe and the Middle East, and 2019 FBI data indicate American Jews were 2.6 times more likely than Black people and 2.2 times more likely than Muslims to be victims of hate crimes.

If this isn't proof of a Jewish need for self-determination, I don't know what is. And yet this editorial does not even affirm support for Jewish self-determination. Does the Editorial Board believe Israel even has a right to exist? Because, if so, that line is coincidentally missing….
"And so when my people and our homeland come under attack, I will not stay silent," she wrote. "I am still a Crimson editor, but this editorial does not represent me; I do and always will stand with Israel."
MORE: Florida State drops academic group membership over Israel boycott
IMAGE: Natalie Kahn/Twitter
Like The College Fix on Facebook / Follow us on Twitter