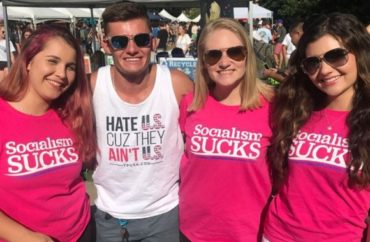 BOULDER, Colo. — When I walked up to a student promoting socialism on campus recently in an attempt to organize a debate, I imagined it going a lot of ways.
Maybe he'd ask for an email with more information, maybe he'd politely decline, maybe we might get into a little debate right then and there.
But one thing I honestly did not expect was for him to launch into a vulgar, angry tirade, yelling at me and my two peers to "fuck off" and "get the fuck out of here!"
Yep, that really happened. Here's the full story.
As a proactive conservative at CU Boulder, I'm not shy about my defending my beliefs. I've donned pro-Trump and pro-NRA gear and received angry looks, and sometimes worse, from peers at my notoriously liberal campus. But one thing I always try to do is present my views in a civil manner. I don't yell, spit, curse or throw tantrums, and I certainly never try to silence those who disagree with me.
I support the free market system, not just when it comes to businesses and markets, but also the free marketplace of ideas, which allows us to discuss issues and find common ground and develop solutions.
To that end, my peers and I set up a Turning Point USA table during the university's Get Involved fair on Aug. 29, just a few days after the fall semester had launched. We were among more than 100 student groups that had set up shop on the grassy quad for the big day, tabling to the thousands of passersby, encouraging them to sign up.
We advertised our first meeting of the semester, a "Pizza and Politics" event. We handed out stickers and other swag with messages such as "Big Government Sucks," "I Love America" and "This laptop was brought to you by capitalism." We spoke of our big event set for October, when Charlie Kirk and Candace Owens are expected to speak on campus.
During the four hours we were out there more than 100 students signed up seeking more information about our club, a fantastic development considering many conservative students are often too scared to speak up here. But it's the start of a new year, a brand new opportunity for everyone to be who they want to be.
As we hung out on the quad, myself and two other Turning Point USA members decided to head over to the student socialists' table and talk about the possibility of hosting a debate.
A little backstory here: We'd emailed our socialist peers last semester asking for a debate. No answer. Before the start of the fall 2018 semester, we'd emailed another request. Again, radio silence.
We figured, why not go up and introduce ourselves in person and see if there was any way to set something up. So myself and two others headed over to their table.
Right away we knew our approach might be met with skepticism, as we wore "Socialism Sucks" T-shirts, but as we calmly walked up we immediately told the two male students behind the Socialists of America table to please ignore our T-Shirts, we honestly just wanted to introduce ourselves and ask a question.
That's when the barrage began.
One of the male members manning the table immediately yelled "get the fuck out of here!" He refused to answer us when we asked why he had such a problem with us coming over to him. All we got was "fuck off" and "fuck you, I'm not giving you my time or speaking to you" over and over until we walked away.
I was honestly in shock that a fellow peer had the audacity to speak to us in this manner just because we have different values than him. I find it funny that the socialists preach for pure equality of the people, but he refused to speak to us with respect and treat us as equals.
Our club will continue to try and debate our pro-socialism peers, and if the socialist club won't do it, perhaps the College Democrats or another group will.
All I want is for people to be freethinkers and be willing to engage in meaningful discussions. We all want what is best for America. We just have different ideas on what is the best course of action. To bridge this gap of differences, we must all come together peacefully and discuss the issues, not drop the F-bomb on everyone who disagrees with us.
MORE: College socialists–We need more violence against Trump supporters to be effective
Like The College Fix on Facebook / Follow us on Twitter