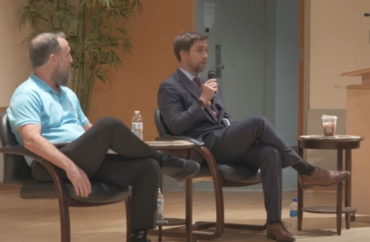 Firebrand education reformer Christopher Rufo, a newly appointed trustee at the New College of Florida, refused last week to shut down a townhall meeting with faculty and students over a vague threat of violence despite top campus leaders telling him to do so.
Confronted by several campus officials in person — and New College President Patricia Okker on the phone — telling Rufo to cancel the event for the sake of safety, he wouldn't budge, according to video snippets of the confrontations he posted to Twitter on Friday.
"We've decided to move forward," Rufo told Okker on the phone. "…It's an anonymous, vaguely threatening email. We can't let that kind of thing shut down the democratic governance of this university."
At issue was two emails directed at fellow New College Trustee Jason "Eddie" Speir, one of which stated in all caps: "SEE YOU ON WEDNESDAY ASSHOLE, MAKE SURE THAT YOU HAVE A FLAK JACKET ON, YOU MOTHERFUCKIN MORON!"
"You have a culture here," Rufo told Okker, "in which the most aggressive and hysterical factions of activists can have veto power over everything, and that's gonna stop, and we have to model that we have the courage to set a new standard. And so, I appreciate it, but we're going to go forward as planned."
Without waiting to hear her response, Rufo hung up, the video shows. The meeting went on as planned, The Wall Street Journal reported.
Behind-the-scenes: the provost and president of New College attempted to shut down our conversation with faculty and students, citing a threat against Trustee Eddie Speir. But Speir and I insisted that we continue with the program—and establish a new standard for open discourse. pic.twitter.com/XW23nimZM9

— Christopher F. Rufo ⚔️ (@realchrisrufo) January 28, 2023
The incident highlights the growing tension regarding the future of the college, at which Republican Gov. Ron DeSantis recently appointed six new trustees who oppose critical race theory and so-called woke ideology, including Rufo and Speir.
Going into last Wednesday's meeting, Rufo already knew there were looming security issues, he wrote in City Journal on Jan. 23.
"I will not cancel," Rufo wrote. "American institutions, from the Ivy League to the Fortune 100, have been taken hostage … If this dynamic is to be disrupted, it must begin with defiance of such intimidation: a willingness to speak the truth, to address the problem, and to articulate a vision that can transcend the ugly politics of the present."
"I'm learning that much of the problem with our universities is weak leadership," Rufo added in a Jan. 27 Twitter thread. "Administrators do not have the courage to stand up to left-wing activists who mobilize grievance narratives and threaten violence."
New College of Florida was beset with problems long before DeSantis tapped the new trustees to turnaround the school in what has been billed as an effort to take a highly progressive-left campus and turn it into the "Hillsdale of the South."
"Founded in 1960, New College has struggled to boost its enrollment numbers, failing to meet a target set in a 2018 strategic plan to reach 1,200 students by 2023. Republican lawmakers in 2020 considered proposals to merge the institution with another state school," The Wall Street Journal reported.
Rufo told the townhall audience point-blank the school is in trouble and its needs help badly, pointing out only 53 percent of its graduates are employed or in grad school one year after graduation. Moreover, the median wage of its grads is only $32,000, he said.
In talks with faculty, Rufo said he's been told there's a culture problem at the school, a hyper focus on social justice, and a bullying and silencing of conservatives and Christians.
"New College has become an echo chamber," Rufo said. "We're gonna bring some changes."
What those changes are exactly, and how they play out, has become a point of debate. News articles in both The Wall Street Journal and Chronicle of Higher Education have interviewed some of the other trustees DeSantis appointed and there is no consensus on how best to turn the school's underperformance around.
The full board of trustees is expected to meet this week, and already there is talk of protest, the news outlets reported.
"Some at New College are treating Okker's dismissal as a likelihood," the Chronicle reported. "As for cutting programs, Rufo tweeted Thursday afternoon that 'DEI departments are political bureaucracies that push a pernicious racialist ideology' and that 'conservatives should make both the moral and economic case for abolishing them.' He didn't mention New College, but given the board's agenda … the implication is clear."
MORE: DeSantis taps Chris Rufo, other critical race theory opponents as Florida college trustees in reform shake up
IMAGE: YouTube screenshot
Like The College Fix on Facebook / Follow us on Twitter