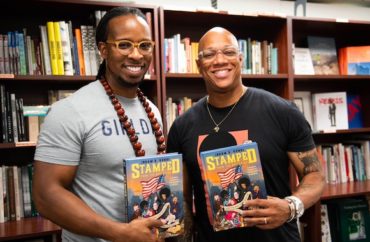 Noted "anti-racist" academic Ibram Kendi has teamed up with a fellow Boston University professor to make his 2016 book "Stamped from the Beginning: The Definitive History of Racist Ideas in America" available to a "broader readership."
According to BU Today, Kendi and artist Joel Gill did so by turning it into a comic book-style graphic novel.
"Stamped" calls out even black figures such as Frederick Douglass, WEB DuBois and Barack Obama for their alleged "racist thoughts" — such as assimilation into "traits held in esteem by the dominant White Americans."
"Stamped" artist Gill apparently believes that assimilation, aka the "melting pot," is a phenomenon exclusively applied to blacks; he told the School Library Journal in late 2020 that racial desegregation really should be dubbed "forced assimilation" because "Black cultural identity wasn't integrated into American schools in a way that was respectful."
Regarding the 44th president, Kendi noted Barack Obama believes in the theory that oppression "has led to Black people feeling hopeless and therefore not striving as much."
Kendi told BU Today he's been thinking about expanding the availability of his "history of anti-Black, racist ideas" to "different types of readers" for some time.
Gill said he's happy Kendi allowed him to insert a few "fart jokes" into the graphic novel. "Trying to make something as serious as racism and the history of racist ideas in America funny is difficult," Gill said. "I feel most of the jokes are funny-not funny."
MORE: Netflix scraps two Ibram Kendi shows
Kendi and Gill (pictured) said they expect the new version of "Stamped" to be "swept up in the current book-banning net."
"[B]ook banning, just like racist ideas, is another cyclical, moral panic," Gill said. "It was hip-hop in the 90s, weed in the 70s, hippies in the 60s. In the 50s, it was comics. We had Maia Kobabe, whose Gender Queer [see here] is one of the most banned books in America, on campus in October."
Tonight we are going to Providence, Rhode Island, where I wrote most of the original, Stamped from the Beginning. For a sold-out event @MosesBrown School to launch our new graphic novel. Can't wait to chop it up with Joel, Seth, and everyone. 1/2 pic.twitter.com/meoNFWqJ92

— Ibram X. Kendi (@DrIbram) June 6, 2023
Gill noted that in the pitch for "Stamped" he had
Richard Mather and John Cotton and Henry Dunster as big-head cartoons talking to one another, and there are these antiracist ideas that happened early on that don't make it into their doctrine. One of them is Herodotus, who says, "The Nubians are the most handsome people." I have Cotton, Dunster, and Mather saying, "That doesn't seem quite right. Their faces aren't white." Then there's another one where Alkidamas said, "The deity gave liberty to all men, and nature created no one a slave," and then I have one of them say, "Then who is going to build our nation?" And the last one is St. Augustine saying, "Whoever is born anywhere is a human being, however strange they may appear," and I have Cotton saying, "Of course he would say that. Look at him!" because he's brown.
The authors also told BU Today they're in favor of reparations to black Americans.
"I don't even think we have to go back [just] to enslaved Africans," Gill said. "My grandparents and great-grandparents in the 20th century paid taxes into a system that didn't help them. How many times was my mom not able to swim in the public park that was funded with my grandparents' tax money?"
Kendi said "To me, it makes sense to close that [wealth] gap through reparations, but [also] any policy that could actually succeed."
MORE: Ibram Kendi denounces black linguist for defending standardized tests
IMAGE: Ibram Kendi/Twitter
Like The College Fix on Facebook / Follow us on Twitter