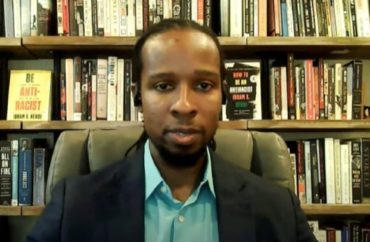 ANALYSIS: Professor who popularized 'anti-racism' has profited greatly off it
Boston University professor and author Ibram Kendi (right) has likely made hundreds of thousands of dollars in the past several years from a series of one-hour lectures, based on data obtained by The College Fix.
Kendi, who wrote several books on anti-racism and has popularized the term, appears to have made over $300,000 in the past several years based on records obtained by The Fix through public records requests. This number is an underestimate and is based on pre-2021 data. Contracts obtained show Kendi's payments have increased in the past several years.
Kendi is the founding director of the Boston University Center for Antiracist Research. Prior to his role at Boston University, Kendi founded the Antiracist Research and Policy Center at American University, where he served as its executive director.
Multiple emailed requests for Kendi's representatives at Boston University and Penguin House, which often represents Kendi, were not responded to in the past five months. Kendi does not list his email publicly and his representatives have previously ignored requests for comment from The Fix about his other endeavors.
Seven contracts alone equal $91,500
The Fix obtained the contracts for six institutions. The schools include Western Michigan University, Purdue University, Madison Area Technical College, California State-Sacramento and the University of California, Merced.
The Fix also obtained a copy of the contract from Highland Park Public Library in Illinois. This represents a fraction of the schools and institutions, such as libraries, that Kendi has likely collected a fee from.
Asra Nomani, a writer based out of Virginia, obtained a contract for the Fairfax County School District, as well.
These institutions paid the Boston University professor $91,500 combined, with $5,000 being the lowest payment overall, $10,000 being the lowest payment within the last year and $20,000 being the highest payment overall.
The Boston University professor has spoken to at least 30 educational institutions in the past several years, according to a College Fix review of his Eventbrite and Facebook events. This does not include other places that host him, such as book festivals or liberal organizations.
All of the payments since 2019 reviewed by The Fix have been for at least $10,000, which leads to an estimate of $300,000.
Payments grew with Kendi's profile
Four years ago, Kendi pulled in less money from a speech at a public university in California.
The professor received a payment of $5,000 from University of California Merced to give his 45-minute speech on anti-racism on May 5, 2017, which was followed by a 15-minute Q and A session. Kendi's lecture was delivered on the campus of University of California Merced in front of 175 attendees, according to the contract.
In 2017, he spoke at a number of universities, including the University of North Florida.
He charged a higher speaking fee in 2019, according to the contract obtained for Western Michigan University.
Western Michigan University paid Kendi a total of $10,000 to speak at the school on November 15, 2019. The event description said Kendi would speak on his book, "How To Be An Antiracist," as well as the "history of racism." The speaking fee did not include the amount the university agreed to pay for flights, hotel and meals for Kendi.
Kendi gave a 45-minute lecture at the university, followed by a 15-minute Q and A, according to the contract. WMU students and faculty were invited to attend the speech, along with members of the public. University officials noted in its promotion of the lecture that it would be free to everyone in attendance.
George Floyd's death in May corresponded with higher payments
Kendi received a $16,500 payment for a 45-minute virtual lecture, along with a 15-minute Q and A session, at Purdue University on September 2, 2020. Purdue highlighted in the promotion of the event that it was free of charge for all attendees.
However, the public records show that the event only permitted registered guests to be in attendance. Additionally, each question asked to Kendi during the Q and A session had to be approved prior to the event by the moderator.
Madison Area Technical College paid Kendi $12,500 to lecture attendees on how they can be anti-racist on November 4, 2020. The 45-minute lecture that was followed by a 15-minute Q and A session had an estimated audience of 500 people for the virtual event.
California State-Sacramento made a payment of $15,000 to Kendi for his September 29, 2020 lecture on how to be anti-racist. The virtual seminar was presented in front of an estimated audience size of 2,000 people. The event included a 45-minute speech from Kendi on his views on how attendees can be anti-racist, followed by a 15-minute Q and A session.
Kendi received $12,500 from Highland Park Public Library for a one-hour Zoom lecture, which included a Q and A session at the end, that took place on the night of November 9, 2020. An estimated 5,000 people were in attendance for the virtual lecture on anti-racism.
Fairfax County Public Schools in Virginia also released its contract to other media outlets as part of a public request. The Virginia school district paid Kendi $20,000 for him to speak to principals, teachers, and other leaders from the schools for one hour on August 6, 2020, according to records obtained by investigative journalist Asra Nomani.
Students were not invited to this lecture but they would get their share of Kendi's rhetoric through his books that the school district paid an additional $24,000 for, including about $10,000 for his book, 'How to Be an Antiracist."
Further requests for information still pending
He continues to add speaking gigs, so he will likely make the same if not more money in 2021. For example, he recently spoke over Zoom to Northwestern University.
Another public records request has also been sent to Prince George's Memorial Library in Virginia on January 26 but has yet to be acknowledged at this time.
Kendi has also spoken at a number of private universities, including Elon, Harvard, St. Louis and Syracuse.
Elon refused The Fix's request to disclose the contract between the school and Kendi in an email on October 4, 2020.
"Elon does not disclose the contractual details of its arrangements with speakers," Vice President of University Communications at Elon University Daniel Anderson told The Fix in an email.
Harvard, St. Louis and Syracuse have not responded to questions from The Fix regarding Kendi's payment to speak at their universities in the past several months.
MORE: UConn to pay 'white fragility' speaker $20,000 for anti-racism workshop
IMAGE: Women's Leadership Lab at Stanford
Like The College Fix on Facebook / Follow us on Twitter