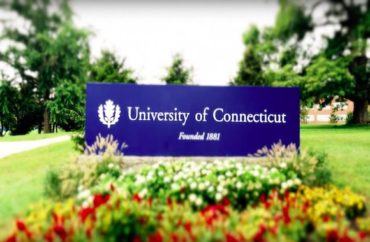 UPDATED
New course on 'anti-black racism' also to be offered this fall
The University of Connecticut is slated to pay "white fragility" scholar Robin DiAngelo $20,000 to lead a three-and-a-half-hour workshop this fall for administrators during their professional development retreat, according to a copy of the contract provided to The College Fix by the university.
The contract also states that the public university will reimburse the diversity consultant who argues that whites are inherently racist up to $2,000 in travel expenses.
"Systemic oppression has been a feature of our society since the first Europeans arrived on this continent, and this colonial legacy won't disappear overnight," stated President Thomas Katsouleas, Provost Carl Lejuez, and Chief Diversity Officer Frank Tuitt as they recently announced DiAngelo's upcoming talk as part of a suite of racial justice initiatives to be launched at the university.
"We are committing ourselves to the hard work of listening, understanding, and working to make the changes needed to build the kind of society where the promises of equity and justice so foundational to our nation are finally shared by all," they added.
The contract stipulates that DiAngelo "does not consent to having her presentation filmed, whether for archival purposes or later broadcast," but it does allow for an unrecorded live-streaming to accommodate larger audiences.
She also bills phone calls related to her services as $320 per hour, the contract states.
DiAngelo is the author of "White Fragility: Why It's So Hard for White People to Talk About Racism," which argues that "white fragility is characterized by emotions such as anger, fear, and guilt, and by behaviors including argumentation and silence," its online description states.
DiAngelo, whose popularity has soared in recent years, has made controversial suggestions at some of her campus appearances. At the University of Texas in 2017, she told students that too many white people are teachers. During her appearance at Boston University in 2019, she said white people who don't see race are "dangerous."
White privilege lecture tells students white people 'dangerous' if they don't see race
As for her going rate, it appears to be about $6,000 an hour. In 2019, the University of Kentucky paid her $12,000 for a two-hour "racial justice" session.
Hosting DiAngelo at the fall leadership retreat is part of the University of Connecticut's plans to increase its social justice efforts this fall.
Its new "Diversity, Equity, and Inclusion initiatives" were announced in a July news release that noted the retreat "will help University leadership come to grips with the critical questions of racism and inclusion, and to bring those insights back to our campuses."
Part of that plan also includes a new course on "anti-black racism" to be offered this fall.
UConn student government leaders resign because they're white
University leaders stated in their news release they "expect and fully encourage the entire community" to embrace the new course, adding it will be led by a variety of faculty and staff "thought leaders on campus."
Stephanie Reitz, a spokesperson for the school, said she did not have a copy of the syllabus to provide to The College Fix.
As for UConn, other initiatives it is undertaking in the name of social justice and racial equality, according to the release, include working to hire more faculty of color as well as "supporting an ecosystem to confront difficult truths and promote important conversations around race and identity."
Editor's note (November 2020): DiAngelo's talk at UConn was canceled earlier this fall when her engagements moved to a virtual platform and were no longer offered in person, a spokesperson told The College Fix in November. UConn made the decision to cancel before the contract's 30-day requirement, and therefore did not expend the funds.
MORE: Why Robin DiAngelo's 'White Fragility' is dangerous
IMAGE: YouTube screenshot
Like The College Fix on Facebook / Follow us on Twitter