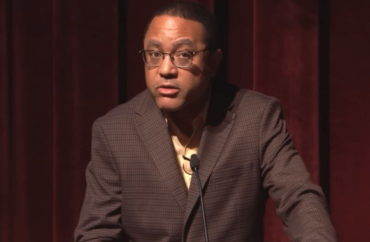 Author of 'Woke Racism' sidelined by peers
"The 1619 kind of perspective, for all of its elaborate terminology and moral passion vented in serious media organs and entertained by people with PhDs, demands that we abjure complexity," wrote John McWhorter in an essay published amid the racial furor following George Floyd's death in 2020.
"It is a call for dumbing ourselves down in the name of a moral crusade," he said at the time.
Now, the linguist and eminent race commentator says colleagues have stiff-armed him on account of his opinions.
"I'm in bad odor among certain linguists these days," McWhorter said on a recent episode of "The Glenn Show," a talk show hosted by economist Glenn Loury.
McWhorter went on to explain that he left the Linguistic Society of America, a professional body for linguists, after being pushed out of leadership roles.
"Everything changed once you and I started screaming in the summer of 2020. There's now a young cadre of linguists—it's not very many people—but who have decided that I'm one of the field's public enemies number one," he told Loury during the June 11 episode.
McWhorter said that the LSA dismissed him from the chairmanship of its public relations committee. He also said that he was not invited to return as the emcee of "The Five-Minute Linguist," a competition held during the LSA's annual conference.
He had hosted the event's first iteration in 2017 and returned as emcee in 2018, 2019 and 2020. "The Five-Minute Linguist" was canceled in 2021, and the LSA lists another scholar, Jessi Griesser, as emcee in 2022.
McWhorter declined to comment to The College Fix.
The current head of the LSA public relations committee is Georgia Zellou of the University of California, Davis. The Fix was unable to find a list of past PR committee chairs or a roster of current LSA members. The LSA did not respond to a request for comment despite repeated outreach.
The LSA does not appear to have made any explicitly political statements. The organization does, however, enshrine DEI goals in its strategic plan and through committees dedicated to ethnic diversity, gender equity, and LGBTQ+ issues.
McWhorter is an associate professor of English and comparative literature at Columbia University. He regularly appears on Loury's show and writes a weekly column for The New York Times. His column "explores how race and language shape our politics and culture," according to the paper's website.
In October 2021, McWhorter published "Woke Racism: How a New Religion Has Betrayed Black Americans." As detailed in a Wall Street Journal review, the book rails against critical race theory and encourages social stakeholders to sternly resist anti racist crusaders, people McWhorter labels as "the Elect."
McWhorter also contributed to "Red, White, and Black: Rescuing American History from Revisionists and Race Hustlers," which was compiled by 1776 Unites, a consortium of maverick thinkers.
Talking to Loury, McWhorter said he worried that colleagues would no longer read or respect his scholarship. He said that lecture invitations have ceased, except from European institutions.
"And I am kind of thinking, I love linguistics, but it no longer loves me. And it never will," McWhorter said.
MORE: How long will John McWhorter last at the New York Times?
IMAGE: YouTube screenshot
Like The College Fix on Facebook / Follow us on Twitter