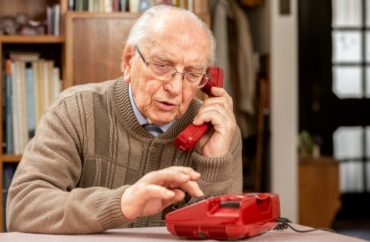 One professor voiced worries high school recruits might have trouble reaching him
The University of Idaho announced a switchover from phone land lines to Microsoft Teams for employees willing to give up their old-fashioned corded phones.
Hundreds of faculty and staff had used their landlines quite infrequently of late, according to The Argonaut, the University of Idaho student paper.
"When I say very limited use, I have a specific example," Office of Information Technology Vice President Dan Ewart told The Argonaut. "We had one phone line identified that had one outbound call, outside the university, in the last year."
The student newspaper reported that officials will eliminate all land lines not in use and switch to Teams for "telephone calls" for employees willing to go along with the new program.
Cutting the cords will save about $420,000, according to the paper; employees with "lightly-used phone lines" will be allowed to keep their phones if they wish.
Some faculty and staff voiced concern the move will present interested students and others from connecting with faculty and staff. One professor of electrical and computer engineering told the student newspaper his number is used for high school students reaching out.
But staff reassured concerned employees they could keep their phone numbers.
"With remote work … people aren't using office phones the way they were pre-COVID," Ewart told the paper. "And with our enterprise licenses for things like Teams and Zoom, those are being far more utilized than the telephone system."
The University of Denver, which uses Microsoft Teams, describes it as "a workspace for real-time collaboration and communication, meetings, file and app sharing, and more."
The College Fix reported in February on a Catholic university in Ohio that gave recipients of a new scholarship $5,000 in tuition funds per academic year to go without their smartphones. Those who have taken part so far said they've felt freedom they had never experienced before.
Recipients of the new "Unplugged Scholarship" at Franciscan University of Steubenville, in the middle of its pilot year, received $2,500 for both the fall and spring semesters for giving up the use of smartphones, according to a news release.
It was not clear how reliant the students became on landlines as a result.
MORE: UMich hiring three 'Racial Justice & Technology' professors to battle 'the new jim code'
IMAGE:Ingo Bartussek/Shutterstock
Like The College Fix on Facebook / Follow us on Twitter