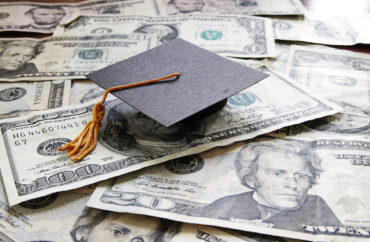 OPINION: It's because they've abandoned their mission as places of learning
In light of the recent coronavirus pandemic, there is a debate on whether universities should hand out refunds to their students who are now taking courses online. I believe that universities would be wise to hold on to every penny they can right now. As students learn online from home, for the first time many parents will see what their children are really learning—and conclude that sending them to overpriced universities is not worth the crushing debt.
To be fair, the standard science, arithmetic and writing classes are still offered at my school and many others. But mixed in with those courses, at every turn, is a suffocating blend of identity politics and left-leaning pedagogy. This curriculum is promoted by my university, Boise State, for example, with programs for staff on how they "unknowingly support racism and white supremacy."
Along with these radical shifts in curriculum, the striving for "equity" on my campus has even affected grading. Faculty workshops have been set up to bring an end to merit based grading and instead focus on "inclusive" grading. This new form of grading and curriculum is supposedly the next step to building a campus that is equitable, inclusive and diverse. Sadly I fear the opposite will take place.
It's not just the curriculum
The quality of education has declined at most American universities, in other words, and it has done so even as the cost has greatly increased. The rise in tuition costs is in large part due to highly unnecessary and wasteful administrative spending.
Colleges across the country are hiring administrators instead of faculty at higher rates than ever before. These administrative positions are largely unmerited and do not benefit the majority of students enrolled at their respective universities. This so-called "administrative bloat" permeating throughout American colleges actually harms students and their ability to learn by making education far more expensive than it needs to be.
Many of these administrators I refer to have made it their mission to stamp out free speech and academic freedom in classrooms across the country. They work to replace them with dangerous socialist ideologies and identity politics. The few students who disagree or dare to speak up with anything different to say are shouted down until they go silent.
The focus on identity politics at the American university could not have come at a worse time. The public square once provided by universities is needed now more than ever, but a curriculum promoting identity politics suffocates the civil discourse desperately needed in our country.
This is why the American college campus truly has lost its way. What once was the breeding ground for new ideas has succumbed to the plague of groupthink. Students are not being challenged with opposing views. Instead, they pay thousands of dollars for a piece of paper that increasingly means little beyond thousands of dollars in student debt.
Millions of Americans are saddled with the burden of student loan debt after being told their entire lives by schoolteachers, friends, and family that a college diploma is a free ticket to a decent living. This train of thought needs to go. Not everyone should be encouraged to go to college in the first place; the ticket is no longer worth the price of admission. The price tag for college has gotten way out of hand and the value is not what it once was.
If the universities owe us a refund, it has nothing to do with this pandemic. It's because they lost their purpose. The jig is up. As parents lean over their children's shoulders and see the inanities being taught, they will realize that there was little worth paying for in the first place.
MORE: Why we shouldn't pressure every student to go to college
MORE: Students demand fee reduction after university goes online over coronavirus
IMAGE: zimmytws / Shutterstock.com
Like The College Fix on Facebook / Follow us on Twitter