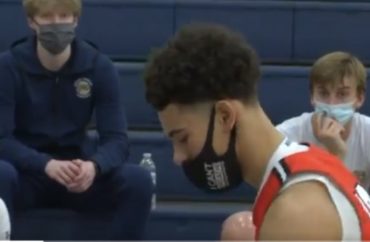 Several medical, fitness organizations warn against masks for heavy exercise
Officials with the Illinois High School Sports Association have fought the state's governor over limits on high school sports due to coronavirus.
However, the officials at the nonprofit organization that oversees high school sports have adapted Democratic Governor J.B. Pritzker's mask mandates — extending it to students while they are on the court.
"All individuals must wear masks," the guidance from the governing body for high school sports said. The association says that athletes "should bring multiple masks to replace sweat soaked masks through games and practices."
Evidently, the officials realize the potential medical consequences from requiring players, who are sprinting up and down a court, to wear a mask at all times.
"Due to players wearing masks during contests, a 90-second time-out will be taken each quarter at the first dead ball under the 5-minute mark to give players an opportunity to catch their breath," IHSA officials said in the guidance document.
The World Health Organization has advised against wearing masks during exercising.
MORE: Kids rarely transmit coronavirus, so we shouldn't make them wear masks
"People should NOT wear masks when exercising, as masks may reduce the ability to breathe comfortably," its "Mythbusters" section explains.
"Sweat can make the mask become wet more quickly which makes it difficult to breathe and promotes the growth of microorganisms," WHO said.
Furthermore, the IHSA rules contradict advice from the American Council on Exercise, which warns against using masks during strenuous exercise.
Its website said:
Monitoring exercise intensity is always essential for a safe and effective workout, with or without wearing a face covering. However, wearing any type of covering over the nose and mouth while exercising is likely to reduce the flow of oxygen into a person's lungs.
ACE said that heavy exercise can reduce oxygen flow.
"Some workouts, such as high-intensity interval training (HIIT), which have been shown to be very demanding on the cardiorespiratory system, may feel a little more difficult," the council said. There could also be a "slightly lowered oxygen level" which is a "contributing factor to fatigue."
"Some exercisers who wear face masks may notice they are not able to complete an otherwise 'normal' workout, or they feel more fatigued than usual during and after the workout," the exercise association said.
Other sports that require mask usage, according to the Illinois sports officials, include bowling and badminton.
MORE: University researchers find even 'completely sealed' masks can't stop viral transmission
IMAGE: Holden Krusemark/Twitter
Like The College Fix on Facebook / Follow us on Twitter