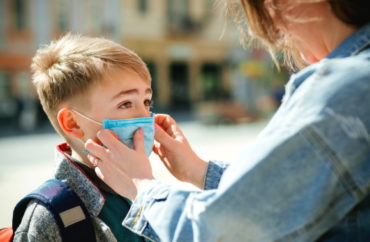 Evidence finds that kids rarely transmit coronavirus to each other or to adults
As schools and states across the country grapple with how to safely return kids to school one common policy keeps coming up — a mandate on mask wearing.
For example, the Catholic Archdiocese of Chicago, which represents 70,000 students, plans to require all students over the age of two to wear masks when they return to school this August. Other school systems, like Indianapolis public schools, will require all students to wear face masks, even inside the classroom, following guidance from the CDC.
But new evidence is piling up which challenges the notion that kids are major transmitters of coronavirus. And some are warning that wearing masks can even make education more difficult and dangerous.
For example, a paper by Swiss researchers concluded "children do not seem to be a major vector" of coronavirus transmission. Furthermore, there is "no documentation of child-to-child or child-to-adult transmission."
A pair of University of Vermont professors have summarized the research into coronavirus transmission and have reached a similar conclusion. In their paper, Benjamin Lee and William Razska, pediatricians and medical school professors, concluded children are not heavily to blame for the spread of coronavirus.
"The key takeaway is that children are not driving the pandemic. After six months, we have a wealth of accumulating data showing that children are less likely to become infected and seem less infectious," Raska declared in the press release from the university.
MORE: Coronavirus lockdowns likely 'great pain for little gain'
The doctors based their research on five separate studies into the transmission of coronavirus, according to the press release.
Published in the same Pediatrics journal as the Swiss paper, they concluded "children appear to be infected…far less frequently than adults and, when infected, typically have mild symptoms."
Summarizing other research, the researchers also note a French study that found one 9-year-old boy had coronavirus symptoms but did not infect any of the 80 students he came in contact with.
"On the basis of these data, SARS-CoV-2 transmission in schools may be less important in community transmission than initially feared," they wrote.
Some experts note that requiring kids to wear masks could cause more problems than it solves, putting children through uncomfortable hours wearing face masks with little benefit.
It's one reason a leading pediatrician group has recommended children only wear masks if they can wear them properly and discourages their use for elementary school students.
The American Academy of Pediatrics recommends face coverings for children only when the harms from wearing them won't outweigh the benefits. This means that children should only wear them when wearing them doesn't make them more likely to touch their face, which kids will likely do as the masks heat up and they start to feel uncomfortable.
But tell that to the Archdiocese of Chicago, which wants kids two and older to wear face masks at its private schools.
An NPR article on Pennsylvania's mask mandate quotes one parent of a two and a half year old who gets uncomfortable wearing a mask after only 20 minutes. The article quotes an early education teacher at a nonprofit who said wearing masks could make it harder for teachers to identify dangerous situations.
"[The order] goes completely against all of our health and safety training to be able to recognize moments of emergency in children," warns Melody Connell, an early childhood education teacher. "You are not able to see the bluing of the mouth, or if their tongue is rolling up, or if they are seizing. You are not able to see the telltale signs of heat exhaustion."
And Brenda Scherz, an American Sign Language instructor at Cornell University, who is deaf herself, previously told NBC News that masks present a "challenge" to people who are deaf.
She said "we are heavily dependent on facial expression and visual cues on peoples' faces, and some of us can lip-read … and no longer do we have access to that, because everyone has masks on."
Making kids wear face masks provides little benefit, but could put kids in harm's way. It's a policy that schools should reject.
MORE: 62% of college students think they will not be infected with coronavirus this year
IMAGE: Volurol / Shutterstock
Like The College Fix on Facebook / Follow us on Twitter