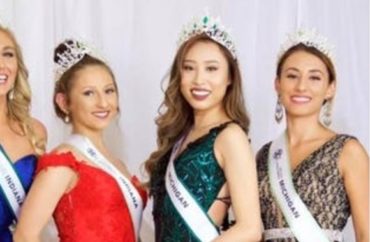 Does pageant 'advocate for the punishment of women who refuse to wear a hijab'?
Beauty pageant officials wanted this outspoken winner to be quiet and submissive. Nevertheless, she persisted.
University of Michigan student Kathy Zhu is savaging the Miss World America competition for revoking her Miss Michigan title just a day after crowning her, the Detroit News reports.
Zhu, also a College Republicans leader, tweeted an email from Michigan Director Laurie DeJack that blamed her social media posts for the decision to revoke her title.
They are "offensive, insensitive and inappropriate," violating the competition's boilerplate rules about bringing MWA "into disrepute" through a contestant's "background," DeJack wrote, copying National Director Michael Galanes and Chief Operating Officer Robert Gandara on the email.
The posts in question came from the past two years. While she was still a University of Central Florida student, Zhu (second from right above) criticized a "Muslim Student Association event that invited students to try on a hijab" in 2018, the News reports:
"So you're telling me that it's now just a fashion accessory and not a religious thing?" Zhu had tweeted. "Or are you just trying to get women used to being oppressed under Islam?"

Her comments prompted a Twitter fight and at least one call for expulsion, but officials ultimately concluded that none of the involved students' actions violated the university's rules of conduct.

In a text exchange posted online, a beauty pageant organizer also raised concerns with an October 2017 tweet by Zhu, who wrote: "Did you know the majority of black deaths are caused by other blacks? Fix problems within your own community first before blaming others."
Zhu wrote back a fiery email to the "gullible" competition officials, explaining the context of her posts:
What's "insensitive" is that women in the middle east are getting STONED TO DEATH for refusing to obey their husband's orders to wear hijabs.
A muslim woman tried to FORCIBLY put a hijab on my head without my permission. […] Are the people in MWA implying that they advocate for the punishment of women who refuse to wear a hijab?

If this was a catholic rosary that someone forced me to try on and I refused, people would not have even bat [sic] an eye.

I suggest you all fully review what you stand for and what you condemn. Statistics and facts are not always pleasant. [This apparently refers to the "black deaths" tweet]
Zhu said the revocation was based on "ONE PERSON'S COMPLAINT" about "photoshopped tweets." She identified that person as Scotland Calhoun Perez, whose Twitter account was marked protected sometime after July 7.
Miss World America's State/National/Chief Director accused me of being racist, Islamaphobic, and insensitive.

They stripped me of my Miss Michigan title due to my refusal to try on a hijab in 2018, my tweet about black on black gun violence, and "insensitive" statistical tweets. pic.twitter.com/K1Btho0Pgq

— Kathy Zhu (@PoliticalKathy) July 19, 2019
Zhu also posted a text thread with DeJack, where the state director asks her to confirm that her Twitter handle is "Political Kathy" and then warned her not to publicly associate herself with Michigan World America.
DeJack implied that Zhu was required to run social media posts by her before posting them, specifically those that identify her with Miss Michigan. Zhu said DeJack gave her explicit permission to post them.
"Kathy, we have a huge issue now," DeJack wrote, without answering Zhu about the issue. She said someone accused Zhu of misrepresenting herself in the competition by presenting her Chinese name. DeJack also asked Zhu why she left the University of Central Florida, and said the MWA national office was on her case.
According to PJ Media:
Muslim students at Zhu's college began a campaign to have her expelled. A female student who was manning the hijab booth said, "I invited you to try one on and you said 'no thank you'…You didn't take the time to even ask questions or try to understand what Hijab is. That's ignorant of you. You literally sprinted after taking the photos. That's pathetic."
When the state director cited her "black deaths" tweet, Zhu deadpanned that she didn't know "statistics were racist." DeJack said it was a "comment with no statistics to back it up," but the political science major retorted that she had read it in an "educational journal." (FBI statistics confirm this.) Zhu also mentioned Calhoun Perez as trying to get her in trouble with previous organizations.
They asked you to delete these photos. pic.twitter.com/8SGVWKvMld

— Chuck (@poochy_chuck) July 19, 2019
MORE: Miss Missouri attacked for doing Bollywood dance
Zhu told the News she went to DeJack's house following the exchange to drop off her crown and sash. Zhu won't be able to compete in the Las Vegas competition for a chance to make it to the international stage.
Miss Indiana and Michigan World America removed its Facebook page Friday, sometime after the News linked to its revised announcement, which reportedly omitted Zhu from the list of winners.
Zhu told the News she didn't care about losing the title, but that "it was more of how unfair it was for the whole process to have taken place":
[S]he had posted that tweet [about "black deaths"] in response to social media claims that "all cops are bad cops, all cops were killing blacks," an explanation she was not able to provide pageant organizers.

"It wasn't anything about blaming blacks specifically for violence," said Zhu, who was born in China and raised in Florida. "I mean, every community has problems within it. I just shined light on that particular issue because of a subtweet of someone else."
She thanked her supporters in a video Friday afternoon:
This is so much bigger than pageantry. This is about an organization discriminating against people with different opinions, calling people racist even when they're not. Just little attacks like those really, really diminishes the value and the truth of the word "racism."
Zhu encouraged other pageant organizations to value diversity of thought and political affiliation, not just "skin color," and told her fans: "Don't worry – I'll still stand firm." She's not taking legal action against MWA, however, because it has "suffered enough negative publicity."
Thank you 🙏🏼 pic.twitter.com/quEC4ibjCp

— Kathy Zhu (@PoliticalKathy) July 19, 2019
MORE: University of Texas bans 'insensitive' speech, lawsuit says
IMAGE: Miss Indiana and Michigan World America/Facebook
Like The College Fix on Facebook / Follow us on Twitter