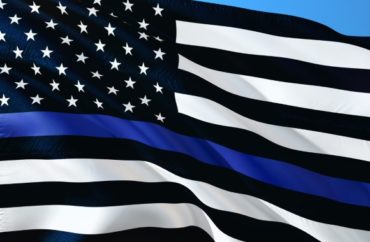 'I fear I will face repercussions simply because I stood for free speech'
A petition circulating at the Rochester Institute of Technology calls for the impeachment of a student government representative following his refusal to condemn Thin Blue Line as "overt racism" and other written disagreements he's had with fellow representatives.
The petition, signed by 21 other members of the student government, calls for the impeachment of Jacob Custer, a student government senator and senior at RIT, for allegedly not properly representing his constituents.
"These actions include, but are not limited to, negative attitudes towards members, blatant disregard of the effects of controversial topics such as Blue Lives Matter and how it affects the Black and Brown community, and blatant disregard for anyone's views," the petition states. 
The effort to impeach Custer stems in part from conversations through the student government's group message app where representatives discussed filing a bias report over a campus safety officer who wore a Thin Blue Line face mask, according to screenshots of the conversation presented by the petition's authors as evidence against Custer.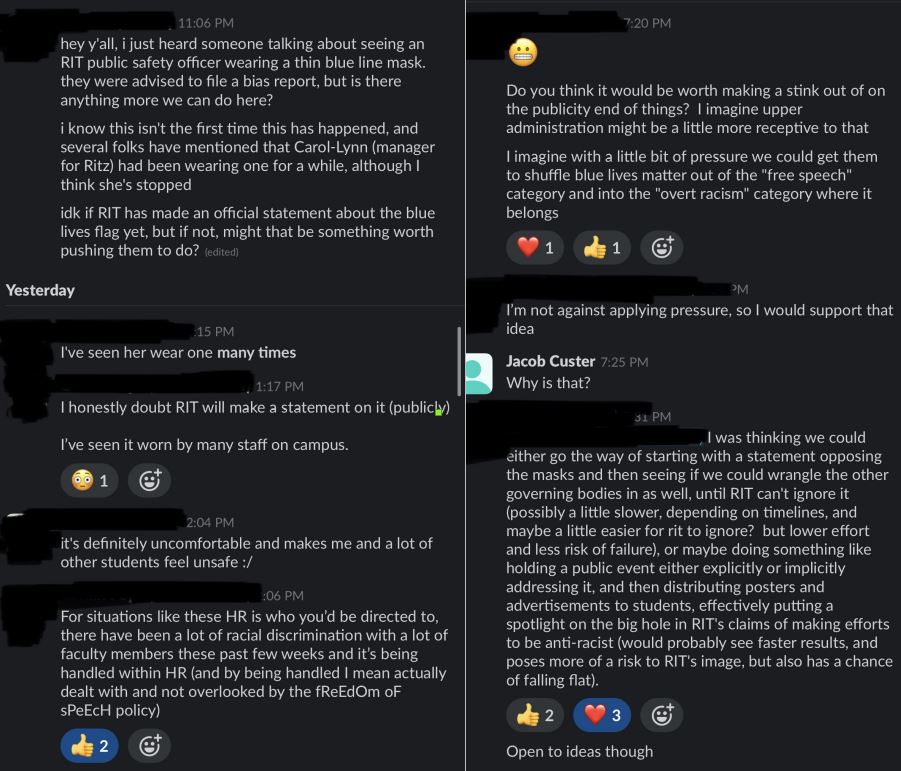 Custer came to the defense of allowing the campus community to wear the Thin Blue Line masks, according to the screenshots.
"Wearing such masks if they want to is not counterintuitive. It is perfectly okay for students and adults to express it since it is free speech. It is not disrespectful either. We are student government, representing all students. It is not our role to determine what idea is good or bad simply because a few members or more disagree with it and punish members of our community over something small. That is just outright censorship," Custer wrote.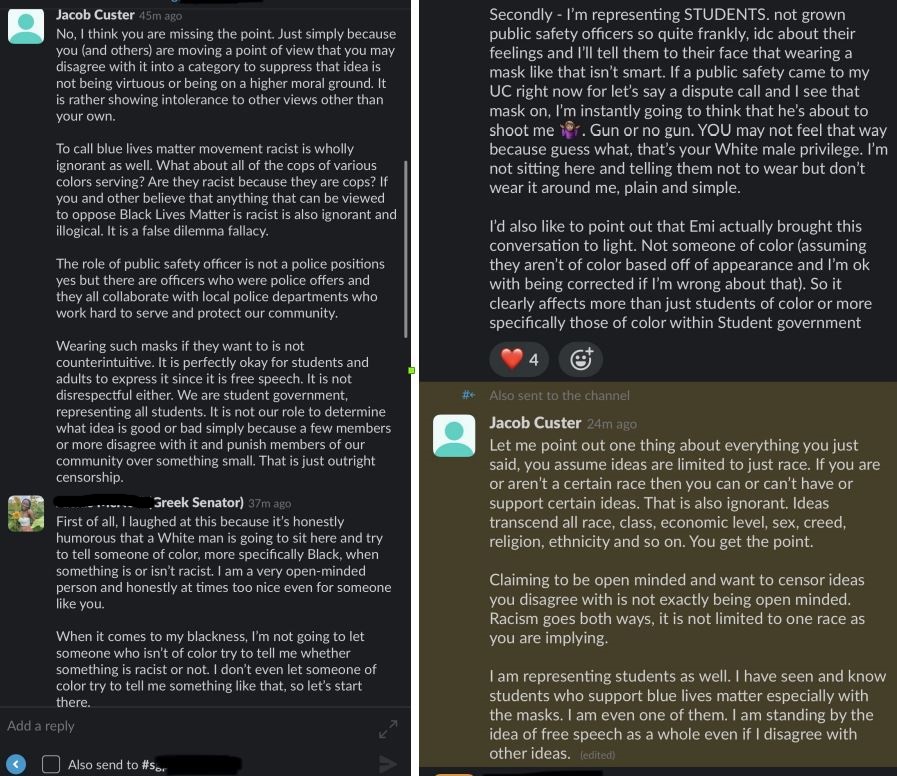 The discussion also delved into the question of whether Thin Blue Line is an organization meant to counter Black Lives Matter, according to the screenshots. Thin Blue Line's about page does not mention any information about their relationship to the Black Lives Matter cause.
"Thin Blue Line USA was founded with the goal of supporting our brothers and sisters in blue. Our core mission is to provide quality products while making a difference in the law enforcement community," reads the organization's mission statement in part.
Members of the student group did not appear to be receptive to Custer's explanations.
"[I]t's honestly humorous that a White man is going to sit here and try to tell someone of color, more specifically Black, when something is or isn't racist," one senator said in reply.
"Breaking news: Jacob Custer is angry and taking a stand against people of color because he isn't allowed to disagree with the idea that Black people don't deserve to be murdered," added another.
In a telephone interview with The College Fix, Custer said the group discourse was anything but civil.
"They were taking a club to try and beat down the conversation and actually tried to shut down politicians in general or force their view," he said.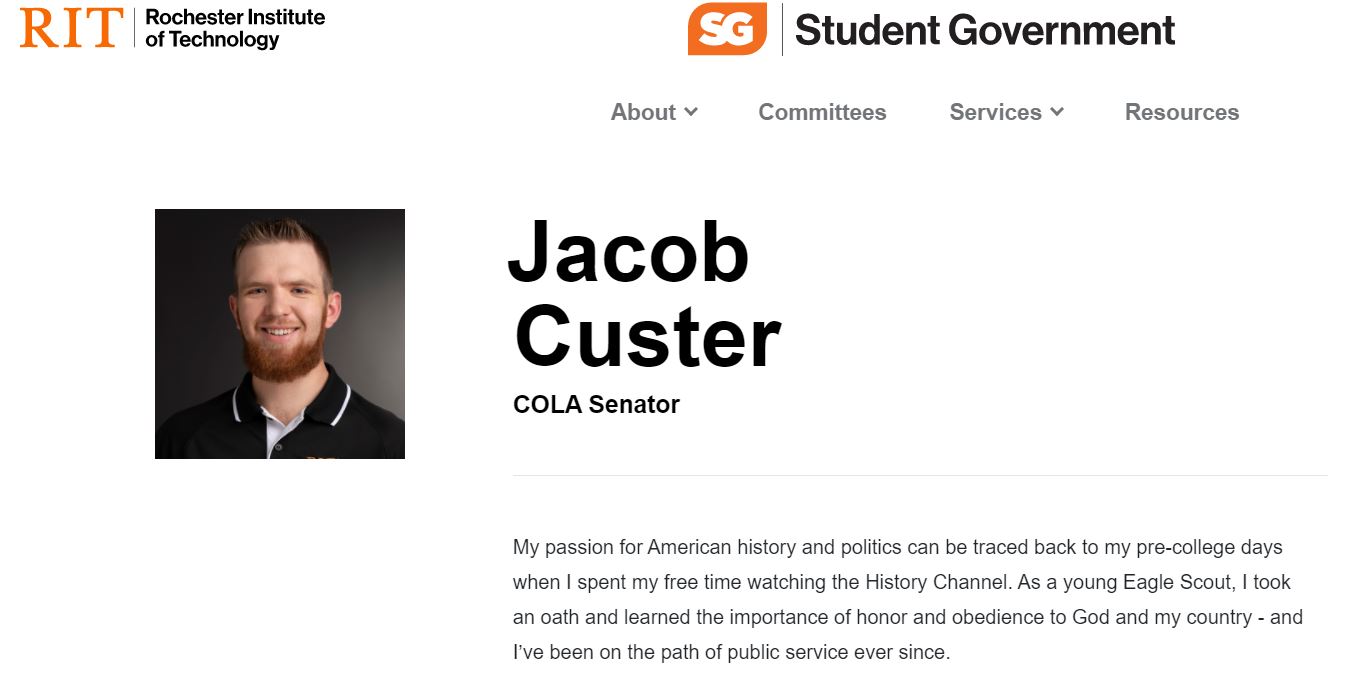 Representatives from student government at RIT did not respond to requests for comment from The College Fix.
Addition evidence presented by the impeachment petition against Custer is a series of screenshots titled "3 BLM" and "Lack of Fathers."
(Pictured below, one of the five screenshots from the evidence file).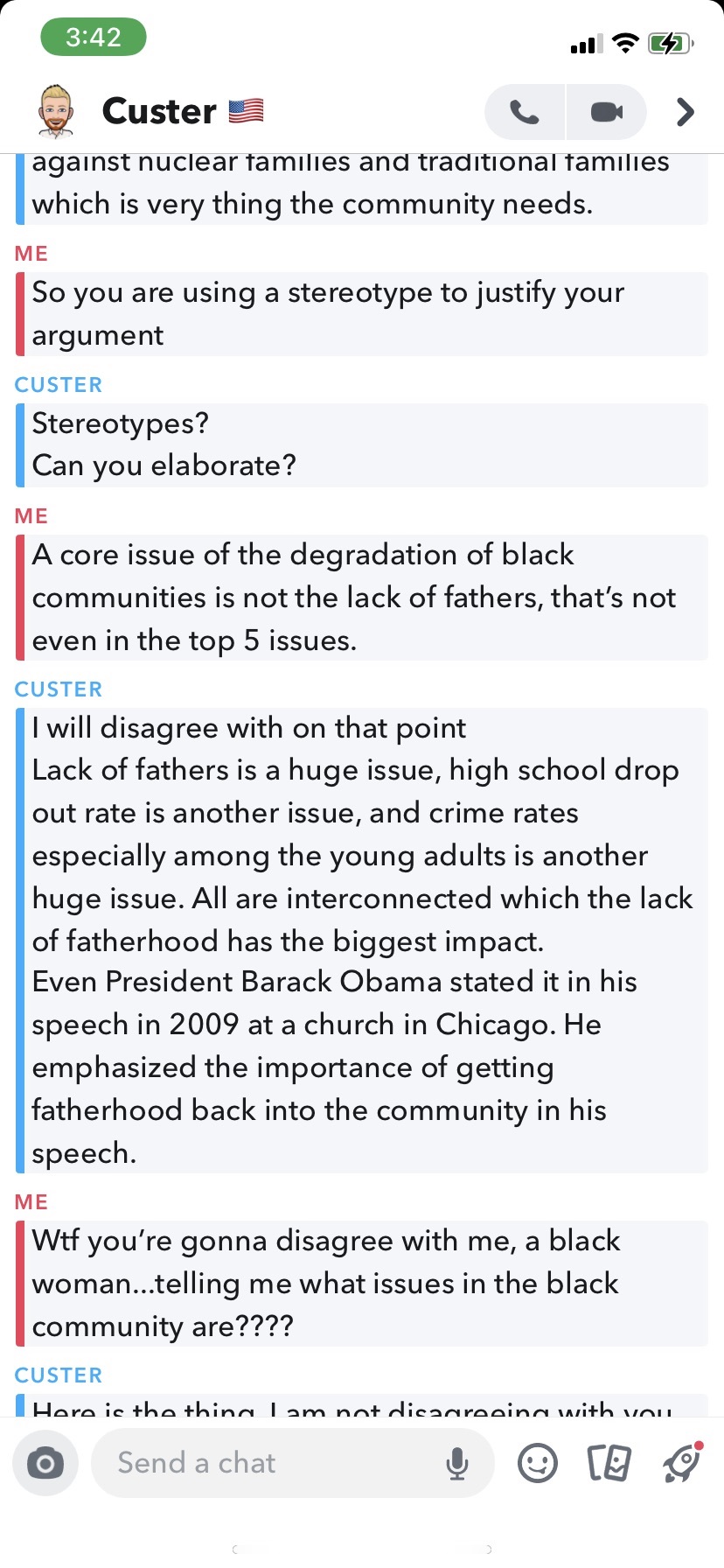 A counter petition, titled Do Not Impeach Jacob Custer, seeks to keep Custer in his position on the student government, arguing that the campus free speech policy provided him the right to comment on Thin Blue Line.
"In particular, he has expressed concern over the direction of political movements such as Black Lives Matter, as well as Blue Lives Matter, which took place outside of the scope of his position, and were well within his rights under RIT's Free Speech Policy. The incidents shown in the evidence included mass intentional mischaracterizations of statements that were either entirely factual, partially disputed, or of an opinion that did not match their own on controversial subjects," reads the student-led counter petition.
Since its creation, 207 students have signed the counter petition, exceeding the 200 signature minimum for a petition to be brought before the student government at RIT.
"In accordance with our bylaws, we have begun the process of convening the Standard Reviews Board to examine the Impeachment petition. Student Government has and will continue to ensure that the process is fair and unbiased," reads the official response to the petition from RIT's student government.
Custer said he expects to undergo impeachment proceedings during the first weeks of RIT's spring semester.
"The process is still ongoing and the hearing on the impeachment grounds will be soon," he told The College Fix via email. "I fear I will face repercussions simply because I stood for free speech, and I knew of such consequences on a liberal campus, but I believe such fear is something other students should not have to face in a disagreement."
MORE: Pro-Trump Latina student senator beats impeachment verdict, but plans to resign after peers browbeat her
IMAGE: Borka Kiss / Shutterstock
Like The College Fix on Facebook / Follow us on Twitter