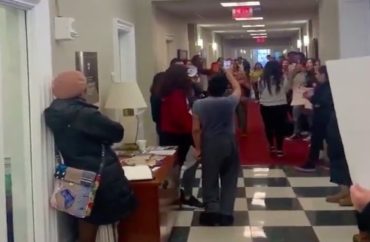 One student needs Ethnic Studies so she can 'fully understand what [her] story means'
Students at Harvard University staged a protest this week demanding the creation of a new ethnic studies department, the second time in as many weeks that campus activists have "occupied" a building to spread their message.
Last week Harvard protesters occupied University Hall for roughly an hour to protest the university's having denied tenure to Lorgia García Peña, a language professor at the university. Protesters also "called on Harvard to establish an Ethnic Studies department offering Ph.D.s in Ethnic Studies and concentrations and secondary fields in Native American and Indigenous Studies, Latinx Studies, Asian American Studies, Muslim American Studies, and Comparative Race and Ethnic Studies."
This week, The Harvard Crimson reports, protesters once again occupied a campus building, this time the Office of Admissions and Financial Aid. Students reportedly protested with slogans such as "After you admit us don't forget us" and "Want diversity? Teach our histories!"
The Crimson said one student "criticized Harvard for simultaneously 'tokenizing' students of color while denying them access to diverse curricula and faculty mentors." That student declared at the event: "I am tired of Harvard using my story without giving me ethnic studies so I can fully understand what my story even means."
From the report:
At one point during the protest, Dean of the College Rakesh Khurana arrived in the admissions office and sat down in the hallway, taking notes as he watched the students chant.

Khurana said in an interview after the protest that he attended the sit-in to listen to students' concerns.

"Everybody on our campus deserves to be heard," he said. "And I'm trying to understand what is important to them and see what we can do to continually strengthen dialogue and communication with the students."

Students who work for the admissions office also spoke at the protest, calling on Harvard to reaffirm its commitment to diversity beyond admitting students of color by also creating a formalized ethnic studies program.
The demands of the protesters have not gone unnoticed. Earlier this week Dean of the Faculty of Arts and Sciences Claudine Gay wrote in an email that the university has a "strong institutional commitment" to creating an ethnic studies program.
The Crimson reports that, at a "teach-in" following the protest, Crimson reporters were asked to leave and were verbally harassed by activists there. Some protesters "physically tried to block The Crimson from taking photographs," as well.
MORE: Harvard students hold sit-in to protest prof not being granted tenure
IMAGE: eezejiokoye / Twitter.com
Like The College Fix on Facebook / Follow us on Twitter