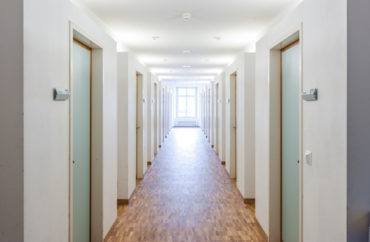 There is still a 'process' to deal with 'hate speech,' however
Staff overseeing the University of Michigan's housing facilities may no longer censor student speech on dorm room doors. The change in policy comes after a lawsuit filed by a watchdog group against the university.
The lawsuit, filed by the group Speech First, "accused the school of limiting students' abilities to express themselves freely." The university responded to the lawsuit in part by adopting policies to "show its commitment to the First Amendment," The Michigan Daily reports.
Among those policies is a rule that residential advisors may no longer censor or remove speech on students' dorm doors.
The university "has restricted the housing staff, such as resident advisors and diversity peer educators, from removing speech from student doors — including hate speech."
"While the policy does not extend to community areas, such as housing notice boards, student doors are deemed personal spaces, and the individuals whom they belong to have the right to express themselves in almost any way they please," the paper reports.
The university does, however, still have a "process" in place to deal with instances of offensive speech:
[T]he first response to potentially harmful speech is reporting it to a professional staff member who then takes the information to the Housing Diversity and Inclusion unit, which directs the incident to the Division of Public Safety and Security, the hall director or another University official. There are also conversations held with the student who was the source of the speech as well as with those who are impacted by the speech. Additionally, if any speech threatens violence against another individual or group, the threat is handled by DPSS.
The possibility of a "conversation" with students who author offensive speech is significant: Such measures could constitute a chilling effect on campus free speech, wherein offensive words are not directly punished but a student nevertheless feels pressure from campus authorities to self-censor his speech.
An anonymous residential advisor told The Daily that, in spite of "the inability to immediately remove racist speech…the housing staff is working to make sure the right reports are being filed so the right steps can be taken to handle the situation."
"[T]here is action taking place. It's just not the immediate action of ripping something down," the RA said.
MORE: University bans dorm room whiteboards to stop hurtful words
IMAGE: Vasin Lee / Shutterstock.com
Like The College Fix on Facebook / Follow us on Twitter