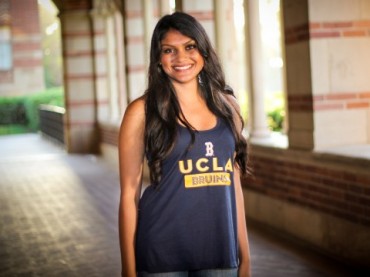 When student government elections come down to the wire, last-minute allegations have a way of showing up.
In UCLA's elections this week, the "gotcha" moment appears to be… a parody video.
The Daily Bruin reports that the LET'S ACT! slate of candidates is accusing a candidate on a competing slate – less than 24 hours before polls close – of making a "homophobic" video about one of them:
Ruhi Patil, a Bruins United candidate for Undergraduate Students Association Council Financial Supports commissioner, danced in the video, mimicking her opponents' choreographed dance from a promotional recording encouraging students to vote for him and his slate.

LET'S ACT! candidate Erineo Garcia, who identifies as queer, is the only other candidate for the position.

Many slate supporters shared Garcia's video on Facebook last week. The controversial parody shows Patil wearing feminine clothing and dancing to the same song used in Garcia's campaign video.
This appears to be the video that Patil parodied. It's not clear whether Patil's own parody video is still online.
Here's a Daily campaign video with Patil.
Patil denies her video was homophobic, but the Daily says she agreed she must "take responsibility for the negative interpretation of the video," and she apologized.
The head of the Queer Alliance, a LET'S ACT member, said Patil was mocking Garcia's "mannerisms" and "femininity," which is reminiscent of what LGBT students "get bullied for in school constantly."
Without having seen Patil's video, I can't say whether it was truly insulting to Garcia, but it would be hard not to use Garcia's mannerisms and even clothing in a video parodying his own. That's what parody is.
Even LET'S ACT! looks like it's mocking Patil's cultural heritage – its group shot looks like a Bollywood parody.
It sounds like one slate simply wants a last-minute trump card against its competitors.
You can see Bruins United candidates including Patil (at 2:16) reading "mean tweets" about them on its Facebook page. It appears to have been shot before she was accused of homophobia.
Like The College Fix on Facebook / Follow us on Twitter
IMAGE: Bruins United