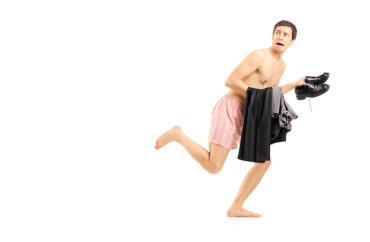 This is, uh, not that difficult
Colorado State University has politely asked its students to stop running around half-naked on campus. The school's annual "Undie Run," in which students strip down to their boxers, bras and panties while frolicking around the school grounds, is apparently a bit of a headache for the school, having cost the university around $150,000 in property damages over the years; the school is also concerned about "heavy drug and alcohol use" at the event, as well as students placing themselves in "harmful situations" (no kidding).
One is sympathetic to the school's desire to stop its campus from becoming a depraved bacchanalia every May. And yet it is something of a mystery why the students are being asked to halt this bizarre spectacle. Can't the school just, well…make them stop?
There would seem to be any number of mechanisms the university could use to put a halt to this event. It could simply ban the event altogether; one would imagine that briefs and thongs may very well violate the campus dress code. If students continue to participate, the school could begin to hand out sanctions. As a last-ditch measure, campus police could arrest students who continue to violate the order.
There are doubtlessly numerous other steps that could be taken. But it is silly and pointless for an administration to meekly ask its students to stop doing something the school points out is dangerous and destructive. If students are wrecking school property and putting themselves at risk, the school needs to step in and halt whatever it is they're doing. This isn't rocket science. It's just the obvious, naked truth.
MORE: School urges students not to jog around campus in their underwear
IMAGE: Ljupco Smokovski / Shutterstock.com
Like The College Fix on Facebook / Follow us on Twitter