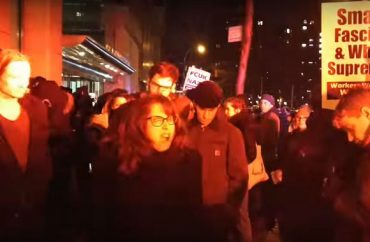 The saga of right-wing comedian Gavin McInnes' visit to New York University last week at the behest of the NYU College Republicans continues to be the gift that keeps on giving.
First, self-styled anti-Nazi protesters showed their true colors, trying to assault McInnes and succeeding in pepper-spraying him, and also jeering and shouting over his talk until the event was shut down 20 minutes into what was supposed to be an hour-long speech.
"The protesters were seemingly unaware that McInnes is a libertarian, and has never been associated with neo-Nazism" https://t.co/9aoeCZ88YD

— Gavin McInnes (@Gavin_McInnes) February 4, 2017
MORE: Milo at NYU scrapped due to 'security concerns'
The fiasco prompted several arrests after protesters scuffled with police and brought to light the "next Melissa Click," a professor who demanded the cops attack McInnes and berated the officers for not doing so, a tirade caught on video. Then we learn this professor is … wait for it — a "lobster porn" artist.
And now, as the dust settles, the NYU College Republicans report that interest in their club has never been higher after the progressive leftist thugs showed who the real fascists are.
The Washington Square News reports:
NYUCR Treasurer Jack Kapulsky helped organize the event. He said that liberal students had disrespected McInnes and did not give him the attention he deserved.

"What kind of a reaction can you have to a speech when said speech is being completely drowned out and cut short by a horde of wailing children?" Kapulsky said. "If these disruptors were rational beings, they would participate in the dialogue and ask a question. But when Gavin offered one of them the microphone, that person ignored the opportunity and kept on screeching."

Kapulsky said that even though protesters sought to drown out McInnes, their actions actually generated interest in NYUCR.

"Thankfully, their stupidity and incivility continues to be the laughing stock of the sane community, and their shenanigans just move more and more people to the right," Kapulsky said. "Interest in our club is now at an all-time high."
After the fiasco unfolded last week, the club had also released a statement saying in part: "Our intention was not to advocate for McInnes's views, in fact many of us differ with him when it comes to certain ideas. The purpose of this event was to promote free speech and not to promote certain ideas. The purpose of our club is to give students the opportunity to meet and listen to conservative speakers from all across the political spectrum, especially since we are the largest conservative organization on campus."
MORE: Professor who screamed at NYPD to beat up conservative speaker also does … 'lobster porn'
MORE: College socialists call for more violence against Trump supporters
Like The College Fix on Facebook / Follow us on Twitter