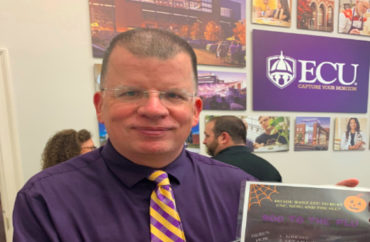 The interim chancellor at East Carolina University has been placed on administrative leave after videos and photos surfaced of him drinking and dancing with students at a local bar.
One clip appears to show Dan Gerlach "chugging alcohol with younger patrons, dancing with young women and putting his arms around them," according to The News & Observer.
ECU had no comment other than to note an investigation is underway, and that Gerlach is "known for taking selfies with students, staff and faculty on and off campus."
In a statement, Gerlach said
When I first started here, and even before, one constant concern that I heard was that our students needed a leader of the university to be present and approachable, someone who can speak to them in their language. That's what I've set out to do at ECU. I regret that these photos are being perceived as anything more than what they are.
Local response was largely favorable to Gerlach.
Club 519, one of the bars at which Gerlach was present, tweeted out "@ECUChancellor Dan Gerlach is the first chancellor I know that's come down from the ivory tower and been a part of OUR community. We're lucky to have him. I'm 'deeply concerned' that something else is in play here."
Rob Waldron, Club 519's owner, said "The students that were in here thought it was cool the chancellor was at 519. Yeah he had some drinks, but he wasn't drunk. He was not causing any kind of problems." Waldron added he received no complaints about Gerlach — from students or anyone else.
On Monday, Gerlach apologized, telling a local radio show he didn't exercise "good judgment" and that he "should've just maybe said one beer and then you know that's it."
"I regret that I was out this late putting myself in this position," Gerlach said on the show. "It won't happen again."

Gerlach said he was sorry that his behavior caused this distraction from the progress that he said ECU has been making. …

"I carried that too far, and I regret the distraction that's been caused," he said. "I don't want anybody here to think that these pictures are anything more than me talking to people and encountering people probably too late at night in a bar." …

In the radio interview, Gerlach acknowledged that he made a mistake, but said that he didn't think it was a fatal error. He said he's still interested in pursuing the chancellor position full-time and that he wants what's best for ECU.

"I made a mistake, chancellors are human beings and make mistakes," Gerlach said. "But I don't think it is indicative of my ability to lead the university, especially with the great team we have."
Gerlach added he is concerned about how the photos and video "were packaged and distributed in a way to make him look bad," noting he didn't do anything "to really justify what's happening to [him] now."
Read the News & Observer articles.
MORE: University president apologizes for drinking from beer bong
IMAGE: Twitter
Like The College Fix on Facebook / Follow us on Twitter