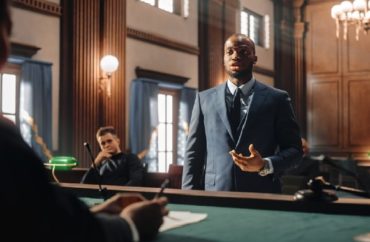 Black prosecutors punish black criminals to fit in with white colleagues, paper alleges
"Internalized racism" could be one reason that black prosecutors pursue tougher punishments for black criminals, two Florida International University professors argued in a paper published in the latest issue of Justice Quarterly.
Professors Besiki Kutateladze and Lin Liu examined one prosecutor's office in New York City to test their Internalized Racism Theory hypothesis.
"As IRT suggests, Black prosecutors will be more likely to have internalized negative perceptions of their race and Blackness," the researchers wrote.
"A sense of inferiority — which is fundamental to internalized racism — is likely intertwined with the relative lack of power in the prosecutor 's office," the researchers wrote.
Black prosecutors, the paper theorized, pursue tougher punishments of black individuals than white, Hispanic or Asian criminals because of racism they "internalized" from mostly white colleagues.
"While we may not think of prosecutors as underprivileged and vulnerable, we argue that minority prosecutors may not be immune to internalized racism," the authors wrote. "Surviving on the margin of a predominantly White industry, minority prosecutors may believe employment and career advancement requires them to adopt what they perceive as White prosecutors ' behavior."
"Minority prosecutors may strive for toughness and punitive outcomes for all groups of defendants, especially for those in their own racial group," they theorized.
Racial minority prosecutors "may overcompensate with harsher decisions to prevent being perceived as an outsider or biased in favor of their own race" as long as there are "historically racist policies" and "white managers" remain in the majority.
"In cases disposed of by Black prosecutors, Black and Latino/defendants are significantly more likely to receive custodial plea offers than are similarly-situated White and Asian defendants," the authors wrote. "Although the direction of the relationship with charge reductions was in line with our hypotheses, no significant effects were detected."
"Black defendants were most likely among all race/ethnicity groups to receive custodial plea offers," the professors wrote.
MORE: Anti-racism professor calls 'legal vote' a racist term
Neither professor responded to request for comment on their findings.
Two researchers with backgrounds in social science research commented on this study to The College Fix.
"There's not a lot of empirical research on this topic, so this recent work is valuable and the methodology makes good use of necessarily limited data," Ron Wright, a criminal justice scholar at Wake Forest University, told The Fix via email. "I hope it prompts much further research on related questions."
Mark Perry, an economics professor emeritus at the University of Michigan-Flint, wrote that the study's small sample size makes the results insignificant. Perry, a conservative, compared the results to the "prevalent assumption" of a racist criminal justice system and how that should lead to white law enforcement pursuing tougher punishments.
"They claim to have statistical evidence…that black prosecutors are biased or prejudiced toward black defendants, but that seems questionable," Perry wrote. "What about the prevalent assumption of white privilege, white supremacy, systemic racism, etc.? That would suggest that it should be white prosecutors who are biased and not black prosecutors," he told The Fix.
MORE: 'Friends' co-creator gives $4 million to Brandeis to atone for 'internalized systemic racism'
IMAGE: Goro Denkoff/Shutterstock.com
Like The College Fix on Facebook / Follow us on Twitter