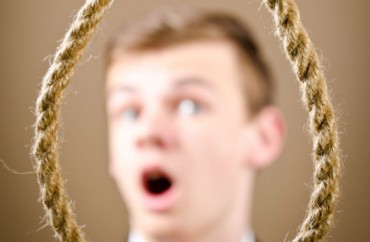 A quartet of Los Angeles-area elementary school teachers has been cleared of wrongdoing after being placed on administrative leave for posing for a picture … with a noose.
Nevertheless, the educators from Summerwind Elementary School in the Palmdale School District were "ignorant, lacked judgment, and exhibited a gross disregard for professional decorum" investigators said.
According to The Los Angeles Times, the photo, which was taken by the school principal, sparked community outrage and led to a town hall meeting to assuage anger and concerns. The principal ended up resigning.
The investigation revealed the first grade teachers meant the picture to convey the message "hang in there until summer" (it was May, near the end of the school year), and that they had "reached the end of [their] rope."
The principal and all four teachers, who remained unnamed in the report, said they had no knowledge of the racial hatred a noose symbolizes. One teacher, whose family often attends rodeos, said her first thought when she saw the noose was the Wild West. Upon deeper reflection, she thought that someone could be offended by the picture if that person "had a family member that committed suicide." Another didn't know what a noose was until texting her husband, who responded by sending a link to a webpage explaining its significance.
Following the investigators' report, district spokesman David Garcia said "This is offensive, period […] This investigation report validates all the ill feelings, all the hurt, all the pain that the Palmdale School District and its community suffered.
Garcia noted the district is "reviewing the report" and would decide on disciplinary measures for the teachers.
The report noted the teachers were rummaging through a storage room to find items to use in class. One discovered the noose — which the teachers thought was left over from Halloween — and they eventually came up with the "hang in there" joke.
During the post-photo furor, the teachers "exhibited extreme remorse to investigators." None of them, including the principal, had any prior disciplinary troubles with the district.
MORE: Climate change activists ripped for wearing nooses at U. Wisconsin
MORE: 'Noose' at U. Michigan hospital was a fishing knot
IMAGE: R DOT Badowski / Shutterstock.com
Like The College Fix on Facebook / Follow us on Twitter