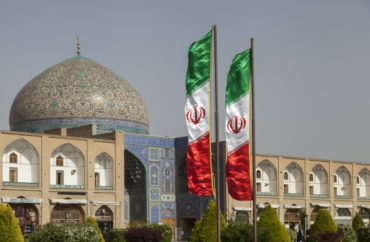 Iranian regime exerts political control over an ostensibly neutral educational institution, analysis argues 
An Iranian educational institution affiliated with prominent American universities has problematic ties to the Iranian government and promotes regime propaganda, according to an analysis published August 9 in National Review.
The American Institute of Iranian Studies is a nonprofit "consortium of American universities and museums created to promote academic and cultural exchange between the US and Iran," according to its website. It was founded in 1967 to host and support American scholars in Tehran studying Iranian civilization.
Affiliates listed on its "Member Institutions" page include Harvard, Princeton, New York University, the Metropolitan Museum of Art and the Smithsonian.
The institute, known by the acronym AIIrS, is "intertwined with a group that has connections to the upper echelons of the Iranian regimes, which the United States designates as a state sponsor of terrorism," according to National Review.
After the Islamic Revolution of 1979, AIIrS stopped sending students to Iran for two decades, but resumed its exchange program in 1998, according to National Review.
Michael Rubin, a historian and senior fellow specializing in the Middle East at the American Enterprise Institute, published an account of his 1999 study trip to Iran with AIIrS as a graduate student in the March 2000 issue of Middle East Quarterly.
"The AIIrS obtained visas for we American graduate students to spend the summer studying at the Dehkhoda Institute, a language and literary center affiliated with the University of Tehran," wrote Rubin (pictured).
Rubin wrote that the ostensible representative of the institute, Mohammed Hissami, was identified by "some Iranians" as "really working for the Ministry of Security and Information."
Hissami "repeatedly threatened us with expulsion, and declared that under no circumstances would we be allowed to travel independently with ordinary Iranians…Iran's authorities seem to want to gain propaganda points for the dialogue of civilizations, but are not yet ready to allow true dialogue among real people," according to Rubin.
"Other visitors since this summer have indicated constant escorts with no time for casual exchanges," he wrote.
AIIrS linked to foundation headed by Iranian former politician
A major mission of AIIrS currently is to offer doctoral and masters students fellowships for advanced Persian language study at the Sa'adi Foundation in Tehran, National Review reported.
"The Foundation was established in 2012 to be consigned with the strategic management and execution of the educational, research, cultural, and media activities…based on the objectives, policies, strategies, and regulations governing the international cultural relations of the Islamic Republic of Iran," according to its website.
Sa'adi is "part of an extensive government-led network that advances the Islamic Republic's revolutionary, ideological and political agenda in the region and across the world," according to ​​Ahmad Majidyar, a Middle East specialist employed by the National Endowment for Democracy.
Sa'adi's senior leaders also hold top positions in the Iranian regime, according to National Review. For example, its president, Gholam-Ali Haddad-Adel, is a former chairman of the Iranian Parliament and dedication to "revolution and cultural jihad,"
"Thus, in practice, AIIrS has engaged in assisting in the propagandizing of American students, with the help of the Sa'adi Foundation," National Review reported. "Their joint efforts are being run by officials who have direct relationships with the worst elements of the Iranian regime."
AIIrS receives approximately two-thirds of its income from U.S. government agencies or affiliates, according to recent public tax forms. Major funding comes from the Council of American Overseas Research Centers, which the U.S. State Department funds with approximately $4.4 million a year, according to National Review. 
"I can't help but wonder why should U.S. government money support a program which claims to promote civilizational dialogue but in which participants are told to deny their U.S. nationality? Or which seeks to keep participants from any kind of dialogue except for the irritable sort with their security handlers?" Rubin wrote in Middle East Quarterly.
The funding "suggests that AIIrS is, in essence, a State Department–funded junior partner to Sa'adi and other Iranian institutions, simply shuffling papers for U.S. students who wish to visit Iran," according to National Review. "It is another way (along with having multiple former regime officials working at U.S. universities) for Iran to manipulate American foreign policy by setting the conditions of debate years in advance."
MORE: Former professor charged with illegally selling medical technology to Iran
IMAGE: American Enterprise Institute
Like The College Fix on Facebook / Follow us on Twitter