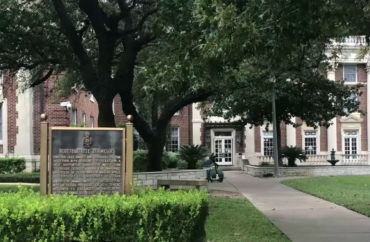 Settlement suggests that same-sex partners can stay overnight, but not heterosexuals
If you attended a small private university like I did, you may not be aware of the existence of "dormitories" that have no affiliation with the universities whose students they serve.
The University of Texas-Austin has been enduring mistaken bad publicity since last fall, when the nearby private Scottish Rite Dormitory was accused of anti-gay bias.
The dorm was built nearly 100 years ago to house female UT students, and it sounds like a giant sorority. It's still women-only and has strict rules for male visitors, who are not allowed to visit residential floors during the week or stay later than 10 p.m. even on weekends. Female guests can stay over if they register and get approval from their hosts' roommates.
The anti-male rules seem pretty clearly intended to keep boyfriends away. You may have guessed by now that the venerable dorm's rules don't seem to account for lesbian students who are publicly "out."
Student Kaj Baker was surprised to learn she wasn't allowed to have guests overnight anymore because other students had complained that her girlfriend – as in, romantic partner – was around all the time, the Austin Chronicle reported. (Even female guests are limited to "two consecutive nights" under the dorm contract.)
She recorded a meeting with the dorm's director, Mary Mazurek, and registrar, Meshelle Bourne, where they asked her to "compromise" so that all 315 residents could be "comfortable." Mazurek made it explicit that "some people are not comfortable with your sexual orientation." (Baker claims the dorm leaders knew she was recording.)
EXCLUSIVE: TNC reporter @elizwsmith gives us an inside look at a dormitory's response to one freshman's relationship. TNC asked Scottish Rite Dormitory for a comment but they did not respond in time. Tune in after the holiday break for more updates. pic.twitter.com/2Oa5KF2Kip

— Texas News Channel (@TexasNewsTSTV) November 20, 2018
Five months later, after a threatened lawsuit, Baker has reached a confidential settlement with Scottish Rite Dormitory, according to feminist website Refinery29.
She received pro bono legal representation from Lenore Shefman, whose law firm focuses on LGBTQ clients:
The attorney, who describes herself as a "bulldog" when it comes to fighting cases, explained that the matter did not come to a lawsuit; it amounted to a discussion with the lawyer representing the dorm in which Shefman laid out several requirements on behalf of Baker. While she could not specify the details of the requirements, she said "increased education and awareness were a big component."
Reading between the lines, it sounds like Scottish Rite Dormitory has explicitly acknowledged that same-sex romantic partners are allowed to stay overnight, rather than revise its rules to explicitly prevent all romantic partners from staying overnight (which seems to be the point of the rules in the first place).
In other words, heterosexuals are not allowed to express their heterosexuality, but homosexuals are allowed to express their homosexuality.
Mazurek, the dorm director, has not responded to a College Fix email to confirm that it has not changed its rules to treat students of all sexual orientations equally and is instead giving preferential treatment to one sexual orientation.
It's hard to believe that UT-Austin would let this happen if it had any authority over the dorm. It would likely be sued for discriminating on the basis of sexual orientation and face investigation by the U.S. Department of Education's Office for Civil Rights.
Indeed, UT-Austin spokesperson J.B. Bird emphasized to The Fix that the taxpayer-funded institution doesn't even have a contractual relationship with the dorm.
The university can house less than a sixth of its student body, leaving the rest to "live in rental units, private off-campus dormitories or other arrangements," he wrote in an email:
We have no impact on [the dorm's] rules, it is not on our campus, and we don't make any contracts with them. It is an unaffiliated private enterprise similar in that regards to the thousands of apartment complexes, private dorms and other private enterprises that market housing services to students all over the United States of America. …

We had to correct several inaccurate stories about this dormitory when the news broke last fall to make it clear this is not a UT Austin dorm but a private off-campus facility.
Heterosexual students who live at Scottish Rite – likely the vast majority of the 315 residents – might want to ask dorm leaders why they apparently discriminate against heterosexuals, rather than treat all orientations equally.
MORE: Anti-gun dildo protest at UT-Austin is likely 'sexual harassment'
IMAGE: Texas News Channel/YouTube
Like The College Fix on Facebook / Follow us on Twitter