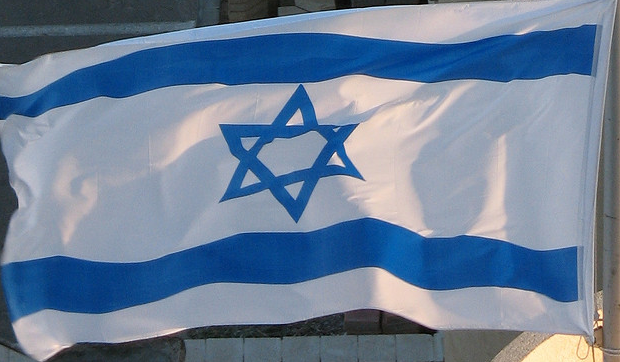 A Claremont McKenna College professor from Israel who called a Palestinian student a "f**king cockroach" at a controversial Students for Justice in Palestine demonstration has apologized, but he continues to be harassed and vilified by some.
The March 4 incident was thoroughly investigated by administrators at the Southern California college, who stated in an April 19 report summarizing their probe's results that the professor called his comments "inappropriate and unprofessional." The review largely cleared the professor of wrongdoing. After it was published, the professor also told several local news outlets he was sorry for his choice of words.
What's more, his actions did not impede the demonstration, the review found. But just for good measure, a dialogue on improving Arab-Jewish relations on campus will commence, campus officials stated.
But the incident's aftermath has festered on campus.
The economics professor, Yaron Raviv, has received several harassing emails. Pitzer (Claremont) College's student government has called into question the "validity" of administrators' investigation. And the student with whom the professor engaged in the verbal altercation, Pitzer (Claremont) College sophomore Najib Hamideh, plans to file a formal grievance against Raviv.
The crux of the controversy centers on the unusual Students for Justice in Palestine "street theater performance" protest last month. The review found that demonstrators blocked the entrance to a dining hall and demanded students present IDs to enter, and at times were rude to students with whom they engaged.
Some SJP members even served as "actors" for the performance, who refused to show their IDs and were promptly "arrested," a student familiar with the demonstration told The College Fix.
The club had received written permission from the college's dean of students to perform this West Bank checkpoint simulation, but the demonstration didn't sit well with some students.
Raviv has said he went to the performance upon the request of a student who came to his office distressed by the protest. He reported he arrived to find students blocking the entrance, so he asked the dining hall manager to move them away from the door.
Soon after, the verbal altercation took place, as reports indicate Hamideh – upset Raviv aimed to move them – said, "Oh, you are faculty? I will hunt you down!" The professor responded: "What? You will hunt me down? You're a f**king little cockroach."
Exactly what was said remains unclear, but campus officials' probe into the incident – during which nearly a dozen witnesses were interviewed – indicates that's roughly the exchange between the two.
Raviv told administrators the "hunt you down" comment was particularly offensive because of his Jewish heritage, according to the review. Hamideh, for his part, denies saying it.
Students for Justice in Palestine also filed a bias complaint against the professor, stating "the term 'cockroach' must be taken in its specific historical context as hateful, racist, enemy imagery."
Raviv has said he never intended to shut down the event. He also denied any racist implications of using the word "cockroach."
In an interview with Claremont Independent student newspaper, he said "they assumed that I meant to demean the other student as a Palestinian."
"First of all, Israelis do not use that kind of expression with respect to Palestinians–that's a total lie. But I don't need to use this argument because there was no way that me, or any other person, could tell that the person in front of me was Palestinian. … His English was much better than mine; he grew up here in the states. … The report of the (Campus Safety) officer describes him as a white male. … He, on the other hand, knew that I was an Israeli based on my accent when he said, 'I will hunt you down.' "
Campus administrators' review concluded that although the professor's actions were inappropriate and unprofessional, they "were not sufficiently severe or pervasive as to constitute a violation of the college's harassment policy."
The review also found that the Students for Justice in Palestine performance did not comply with the college's demonstration policy, and that Raviv "did not improperly interfere with or attempt to stop the event."
But the damage has been done. Raviv has been harassed and vilified by the incident. Specifically, the Independent reports, the professor has received emails that state he is a "huge supporter of genocide" and a "filthy Israeli c*nt," and told to "return to the land of Zion-Nazis where you can slaughter innocent cockroaches at whim. See you in class you wasted inbred."
Raviv said he is sorry for his choice of words, but is concerned about the damage that has been done to him over the incident.
"I poorly chose my words. I regret using bad language," he told the Independent. "We should all aspire to higher standards and not chaos. … But we need to understand what provoked this kind of language. What the student did to me, there's no equivalence. Worst case scenario, I curse at somebody. But he has caused me real damage."
"This has never happened in the college, this kind of persecution just because of political views. And you try to ask yourself, if I was an Irish-American, would they accuse me of being a racist? Or are they accusing me only because I'm an Israeli-Jew? So now, I ask you, where is the bias-related behavior? If I was an American and I said, "F**king little cockroach," would they accuse me of being racist?"
Jennifer Kabbany is associate editor of The College Fix.
Click here to Like The College Fix on Facebook.
Twitter: @CollegeFix
IMAGE: Hoyasmeg/Flickr