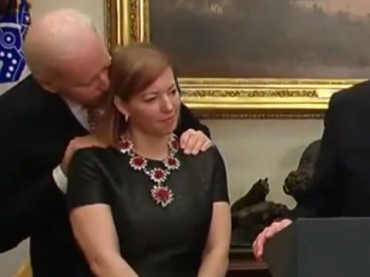 He's certainly no Hillary.
Vice President Joe Biden's recent speech at the University of Illinois at Champaign-Urbana on sexual assault cost the school $30,000, though not because it paid Uncle Joe to flack the White House "It's On Us" campaign.
The News-Gazette reports that the university had to buy "more than 4,700 linear feet of lumber to build bleachers for the event," and shelled out for  "500 'It's On Us' T-shirts and other signs for the event," while the Secret Service picked up the rest.
Anyone else reminded of a Christian youth conference abstinence pledge?
Because of the event, the UI doubled the number of "It's On Us" pledges taken by members of the campus community, now at 3,162, Kaler noted.
UI also has a pretty low bar for bang for the buck:
"We saw that many students listened intently as the vice president gave a powerful speech asking them to stand up and protect each other," [spokeswoman Robin] Kaler wrote in an assessment for Chancellor Phyllis Wise. "(I)f the event changes one heart, it was well worth the time and investment we made."
Among the more telling numbers from the event, according to the News-Gazette: "6 Student selfies in the VP's limo."
No word whether Biden obtained affirmative consent for the embrace in each selfie.
Like The College Fix on Facebook / Follow us on Twitter
IMAGE: YouTube screenshot