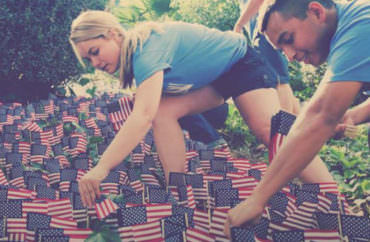 Julianna Purcell, a junior at Ave Maria University, was not alive on September 11, 2001, when members of Al Qaeda hijacked commercial airplanes and flew them into the World Trade Center and the Pentagon, killing nearly 3,000 people.
But 21 years later, Purcell is among the more than 200 high school and college student groups nationwide that will plant a flag for each life lost that day on their campus to honor and remember the fallen.
"Through this project, I aim to show students like me that it is still important to remember the lives lost on 9/11 and to keep fighting for freedom," Purcell said to The College Fix in an email interview. "Through this initiative, our chapter seeks to show fellow students who, like me, were not alive on 9/11, how it is still of great importance to remember those who lost their lives."
Young America's Foundation, a nonprofit nationwide student activism group, organizes the annual 9/11 Never Forget project, sending campus chapters 2,977 flags to install as a memorial.
"Each flag represents a life lost on that tragic day, and that makes it real even for the students who weren't alive or don't remember firsthand what happened," spokeswoman for YAF Kara Zupkus told The College Fix. "It's a moving display for the average student or passerby who walks through the center of campus."
Volunteers put up 2,977 American flags at the Ronald Reagan Boyhood Home in Dixon, IL which is run by @yaf as part of the nationwide 9/11: Never Forget Project. #NeverForget911 pic.twitter.com/bcAfr7oOLC

— Scott Walker (@ScottWalker) September 10, 2022
Alejandro Flores, a student at Clovis Community College, said that although the terrorist attacks were 21 years ago, it doesn't make the event any less important today.
"Whether you were alive or not during the attack on September 11th, we grew up in a world changed by that day," Flores told The College Fix via email. "Most students in college right now weren't alive during the attacks. But probably knew some that had to grow up without a loved one in the household because they were helping [to] fight the War on Terror."
"When I think of September 11, I think of the pain and suffering that the nation was going through when they saw the events unfold in real time," Flores said. "But I also reflect on the sense of unity the country had on the following day, September 12 where Americans didn't view each other as left or right; we just saw each other as fellow Americans."
Although there is a lot of patriotism surrounding the display, in recent years some of the campus YAF flag displays have been vandalized.
In fact, a member of Young Democratic Socialists at the University of Illinois allegedly stole some of the YAF flags installed there on Saturday.
Why would you brag about attempting to vandalize a memorial dedicated to honoring 9/11 victims? https://t.co/tOMlqTEVeo

— YAF (@yaf) September 10, 2022
"It's sad that some leftists can't even honor the victims of 9/11 without attempting to politicize the tragedy into some kind of anti-American propaganda," Zupkus said.
"We advise students who are harassed over the displays that they are on the right side of history, and remind them not to give in to the woke Left's revisionist history about who attacked us that day, and why."
MORE: No punishments yet for 9/11 flag vandal a month after incident
Like The College Fix on Facebook / Follow us on Twitter