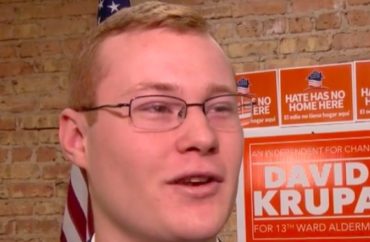 'Intimidation, harassment and illegal tactics' have marked campaign
CHICAGO – DePaul University freshman and political candidate David Krupa publicly announced on Monday that he is filing a federal lawsuit against his opponent, Marty Quinn, as well as Illinois Speaker of the House Mike Madigan, the campaign committee Citizens for Marty Quinn, and the 13th Ward Democratic Organization, for conspiracy and fraud against his campaign.
The College Fix previously reported on the alleged suspicious and possibly criminal activities of pro-Quinn partisans during the campaign. Krupa had originally collected around 1,700 signatures to get his name on the ballot. Following that, "an organized crew…walked door to door in the 13th Ward and turned in 2,796 affidavits from residents asking that their signatures for Krupa be revoked," The Chicago Tribune reported at the time.
In addition to having collected over 1,000 more signatures than Krupa himself had obtained, only 187 of the signatures matched those from Krupa's original effort.
"It is appalling that in America, in OUR city, election fraud of this magnitude can be carried out by our State Speaker and Alderman. Quinn is a crook, and his actions have tainted our neighborhoods, and branded himself in the ward as 'Criminal Marty Quinn,'" Krupa told the audience at a press conference yesterday.
"We have proven to the 13th ward, Chicago, and people all over the state that our campaign is a movement for change. We can beat the Chicago Machine and introduce a New Chicago Way: a City Hall that people can trust and believe in," Krupa said.
In an interview with The College Fix at the press conference, Krupa expressed confidence that the lawsuit would bear fruit.
"Our goal is to win. But I think getting them on the record in itself is something that is going to be very helpful for the FBI investigation that may be going on. Because if the objection process continues, we would have them go on the record, we would have subpoenaed them, and I think that's one of the reasons they dropped that: none of them want to do that," he told The Fix.
Lawsuit alleges shocking intimidation tactics
In his lawsuit, a copy of which was obtained by The Fix, Krupa is demanding "substantial compensatory and punitive damages, plus attorney's fees, costs," as well as "further relief" in the form of "temporary and permanent injunctions from further engaging in the foregoing conduct" from Quinn, Madigan, and the other defendants.
The lawsuit claims that rival campaign officials regularly followed Krupa as he collected signatures from local residents. In one instance, the lawsuit alleges, one "operative" told Krupa: "You're a nice kid, but I'd hate to see something bad happen to you." In another instance, operatives allegedly blackmailed David by claiming that "Quinn and Madigan had embarrassing pictures" of him.
When those efforts failed, the lawsuit claims, his rival's campaign allegedly engaged in "a campaign of intimidation [and] harassment against voters in the 13th Ward," including physically intimidating voters and deceiving them into revoking their signatures from Krupa's petition.
At the press release, Krupa noted that Quinn has been investigated by the FBI for the scandal surrounding the signatures.
'We're in it to win it'
Krupa's attorney, Anthony Peraica, expressed admiration for his client's maturity and tenacity.
"I admire a young man, like David, who is nineteen years old, who is acting and speaking way beyond his age. A very thoughtful and mature individual who's doing things in the political sphere for all the right reasons," Peraica told The Fix.
"I wish there were millions like David Krupa who are willing to step up and get these fossils out of politics. But unfortunately that isn't the case. Young people are not involved in the extent they should be."
At his press conference, Krupa called Quinn "a corrupt politician working only to serve himself, running for re-election only to secure his pension payments, lying to voters of the 13th Ward for power over public service."
"I challenge all mayoral and aldermanic candidates on the February ballot to join me in my pledge to fight back against the Machine and promise a reformed City Hall that brings open and honest government. Our representatives have talked the talk about being honest and transparent with the people. Let this investigation show who is serious about keeping Chicago's government honest and truthful to the people," Krupa said.
"This federal lawsuit is another way of getting them to do a deposition and get on the record for what happened. I think that will open a lot of eyes and certainly incur a federal investigation if one is not happening already," Krupa told The Fix.
"We're in it to win it," he added.
MORE: Freshman challenges Chicago alderman: 'I knew I was going up against corruption'
IMAGE: CBS Chicago / YouTube.com
Like The College Fix on Facebook / Follow us on Twitter