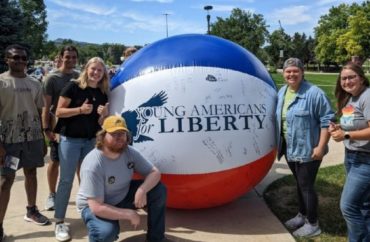 The activity started out peacefully – then 'the situation escalated'
Some students slashed a "free speech ball" set up by the college's Young Americans for Liberty in a campus exercise hosted by the group at Ithaca College, The Ithacan reported last week.
Members of Ithaca College Young Americans for Liberty installed the plastic inflatable ball, over five feet in height, in the middle of the quad and invited passersby to inscribe it with controversial ideas.
Caroline Peyron, president of ICYAL, told The Ithacan that "the activity was meant to remind students about their right to free speech and assembly."
Writing on the ball "was conditional to two rules: no threats would be accepted because that is not freedom of speech and there would be no censorship of others' speech," she said.
We have the right to speak freely! #MakeLibertyWin at Ithaca College pic.twitter.com/WV4e1CYnkF

— YAL Ithaca (@ICYA4L) October 5, 2022
Some students approached the ball and argued peacefully, the outlet reported. Others marked up the ball ball with provocative ideas.
Phrases ran the gamut from "COVID isn't real" and "Roe is dead and it's great" to "Happy LGBTQ+ month!" and "No person is illegal," according to The Ithacan.
"I just kind of mainly saw people either going up and having political debates with the people who brought the beach ball for the club or going up and kind of retaliating … [by writing] very progressive things [on the ball], opposed to the intent of the club, which is right–wing," Rowan Keller, a student, told the student paper.
However, later in the afternoon, "the situation escalated when some students slashed the ball and argued with the organizers," according to the paper.
Another student interviewed expressed disapproval of the exercise's message promoting an expansive view of free speech.
"I think all they [Ithaca College Young Americans for Liberty] wanted to do was just denounce hate speech and claim that it's not real when it very much is," one Ithaca student told the paper. "This may sound broad but really, you can't say whatever you want. That's just the fact of the reality and I think that's honestly kind of a good thing."
Elianna Geertgens, field representative for The Leadership Institute, a conservative educational organization, went to the event in support of YAL and said it was successful.
"Everyone got to express their opinion whether they chose to do that verbally or with pens," Geertgens said. "We did have our pens stolen. We had our ball slashed, [and] we covered it up with a sticker that some of the students provided and put on the ball. We had a couple of our flags stolen and other stuff, but it was okay. I think it was good."
MORE: Campus Freedom Initiative toolkit boosts free speech on campus
IMAGE: Young Americans for Liberty/Instagram
Like The College Fix on Facebook / Follow us on Twitter