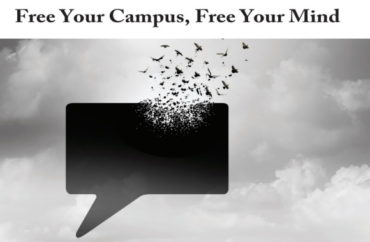 A new Campus Freedom Initiative toolkit provides detailed guidance to higher education leaders on how to preserve and protect freedom of speech and expression on their campuses.
The 20-page toolkit, recently published by the American Council of Trustees and Alumni, spells out a variety of steps colleges and universities can take to embed Constitutional principles in their everyday practices.
The toolkit aims to "change hearts and minds so that students, staff, and faculty embrace free expression and intellectual diversity as necessary and welcome elements of university life," Steve McGuire, director of the Campus Freedom Initiative, told The College Fix via email.
The toolkit states it is a "blueprint to help higher education regain and live by" the core principle of free speech.
Campuses that adopt such efforts will follow what the foundation has dubbed the "ACTA Gold Standard for Freedom of Expression."
Steps range from "adopting new institutional guidelines to creating new on-campus initiatives, to eliminating abusive and unconstitutional rules," all of which "can help colleges and universities reclaim their place as leaders within our liberal democracy," the toolkit states.
It urges campus leaders to add a free expression unit during freshman orientation and openly defend diversity of political viewpoints in public statements.
Additional recommendations include establishing student groups that promote free expression and "enforce consequences that deter disruption of sponsored speakers, events, and classes."
The association also calls for universities to disband bias response teams, eliminate IT policies that chill free expression, ensure Title IX and other disciplinary procedures do not infringe on free expression, and review student governments to ensure viewpoint neutrality in funding.
Criterion for presidential searches and evaluations should also include a commitment to free speech, and the toolkit also calls for faculty and staff to undergo "free expression and viewpoint diversity training."
The association also advises colleges to adopt an institutional neutrality policy, such as the Kalven Committee report and the Shils report, which emphasize removing politics from hiring and promotion processes.
ACTA states taking these steps creates a "gold standard" that colleges and universities can achieve by fostering an environment of free expression and openness to intellectual diversity, which McGuire called "one of the hallmarks of any university community."
The toolkit's primary requirement that a university must adhere to in order to meet the ACTA Gold Standard for Freedom of Expression is to embrace the Chicago Principles on Freedom of Expression or adopt a similar statement.
The University of Chicago has been consistently recognized as an institution that allows for the free flow of information, speech, ideas and expression, no matter the topic, viewpoint or individual in question.
In September, the University of Chicago was rated as the best college in America for free speech, according to a nationwide survey conducted by the Foundation for Individual Rights and Expression.
The Chicago Principles, published in 2014, is dedicated to maintaining an environment of free and open discourse. Over 80 colleges and universities have now applied the principles to their campuses or at least implemented similar freedom of speech and expression policies.
However, although these universities have claimed to be institutions with policies that protect free speech, their actions often prove otherwise.
In 2017, Georgetown University adopted a policy committing itself to protect free speech and expression on its campuses. But the university's actions have contradicted its mission and promise.
Earlier this year, Georgetown placed Ilya Shapiro, the college's incoming executive director of the Center for the Constitution, on administrative leave after he tweeted his opinion that President Joe Biden should not use affirmative action to nominate Ketanji Brown Jackson to the Supreme Court.
ACTA aims to remedy this issue among American universities by holding institutions accountable for their failure to live up to their promises and commitment to free speech and encourage them to take further action to ensure they do better in the future, McGuire said.
"Schools that adopt the Chicago Principles but fail to live by them are likely to find that they will earn a reputation for hypocrisy in addition to the one they already have for intolerance," he said. "They need to walk the walk and not just talk the talk."
ACTA hopes that "time will show that university leaders who aspire to meet the Gold Standard will see significant improvement in the climate for free expression on their campuses," McGuire said.
Georgetown University did not respond to The College Fix's request for comment.
MORE: Columbia is the worst college for free speech, report concludes
Like The College Fix on Facebook / Follow us on Twitter