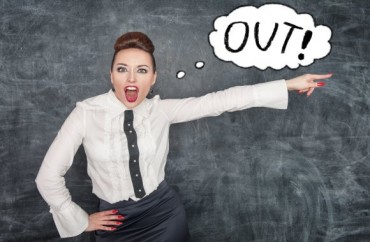 A male student at Indiana University of Pennsylvania has been notified he is no longer allowed to attend a class taught by a feminist professor.
Lake Ingle received official notification from IUP on March 2, informing him he is not permitted back in the class "Special Topic — Self, Sin, and Salvation" due to "behaviors that significantly disrupt the learning process in th[e] class."
According to the site Red Elephants, Professor Alison Downie "forced" students to view a Ted Talk video by a transgender woman who lectured about "mansplaining" and white privilege. At video's end, Ingle and another student allege Downie opened questions and comments to female students only; male students could only contribute after all the females were finished.
After a period of time when Ingle noticed that there was silence and that no other women appeared to speak, Ingle took the opportunity to refer to several official biologists who agree unanimously that there are in fact biological differences between men and women and that there are only two biological genders. Ingle said that he also vocally objected to Downie's blatant discrimination based on sex.
What followed was Ingle's removal.
The "Alleged Violation Description" sent by IUP says Ingle had a "disrespectful objection to the professor's class discussion structure," and made "angry outbursts" during the Ted Talk video which had "discussed the reality of white male privilege and sexism."
Ingle also was accused of challenging the "validity of trans identity and experience," and claiming any bad grade given by Downie would be due to her "personal prejudice."
In today's universities it doesn't matter how smart you are, it doesn't matter how hard you work. All that matters is how much Marxist bullshit you're willing to clap along with like a retarded seal #classwar pic.twitter.com/upG85j50ZJ

— Pave Darker #ShallNotCensor (@APaverDarkly) March 9, 2018
In order to get back into the class (a required course for Ingle), IUP provided an
[…] agreement that they are requiring Ingle to sign […] it states that Ingle must provide a written apology to the professor and also stand up in front of class to make a public apology and explain why he was wrong. It states states that on March 8th, "Lake will begin class with an apology to the class for his behavior and then listen for silence as the professor or any student wishes to speak about how he or she felt during Ingle's disrespectful and disruptive outbursts." Ingle has refused to perform this public apology so far however the school has stated that this is the only way that he would be allowed back into the class that is mandatory for graduation. …

Ingle is currently seeking legal counsel as he says that the verbiage in the referral form and request for removal are extremely exaggerated and that multiple statements in both are completely 100% false. He insists that this is just an attempt to bully him into redacting his views and that this is an attack on free speech.
Ingle also described his version of events in a Facebook post.
According to her faculty page, Downie got her PhD in Systematic Theology with a concentration in Christian Feminist Theology. Her related interests include "ecofeminist theologies, disability theologies, religious understandings of self and memoir, religious themes in literature and film, and interfaith dialogues."
She also is "affiliated faculty" for the Women's and Gender Studies and the Sustainability Studies programs.
MORE: Student booted from class for disagreeing Trump election as bad as 9/11
MORE: Pro-choice college that kicked pregnant student from dorm changes policy
IMAGE: Shutterstock.com
Like The College Fix on Facebook / Follow us on Twitter