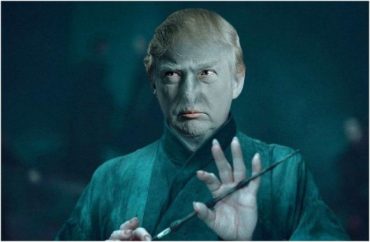 Yes, a member of the Ivy League's own University of Pennsylvania has conducted a study which purports to show that those who read Harry Potter have lower opinions of Republican presidential candidate Donald Trump.
According to Political Science and Communication Professor Diana Mutz's "Harry Potter and the Deathly Donald?," the more books in the series read, the greater the negative effect on Trump.
"Because Trump's political views are widely viewed as opposed to the values espoused in the Harry Potter series," Mutz writes, "exposure to the Potter series may play an influential role in influencing how Americans respond to Donald Trump."
To test for the so-called "Harry Potter effect," Mutz looked at "three core themes " of the books: "The value of tolerance and respect for difference; opposition to violence and punitiveness; and opposition to authoritarianism."
Mutz says that in all three instances, Trump's messages are more in line with that of Potter's enemy, Lord Voldemort.
Party affiliation did not affect the likelihood that a person had read the Harry Potter books, the study found; Democrats, Republicans, and Independents have all read Rowling's books in roughly equal numbers.

The study found that each Harry Potter book read lowered respondents' evaluations of Donald Trump by roughly 2-3 points on a 100 point scale.

MORE: College offers religion course – on Harry Potter

"This may seem small," Mutz acknowledges, "but for someone who has read all seven books, the total impact could lower their estimation of Trump by 18 points out of 100. The size of this effect is on par with the impact of party identification on attitudes toward gays and Muslims."

Mutz's data also shows that each Harry Potter book read also raised a person's evaluations of Muslims and homosexuals, two groups chosen to gauge the respondent's tolerance and respect for difference. Harry Potter also appeared to encourage opposition to punitive policies — gauged by responses to questions about the use of torture, killing terrorists, and support for the death penalty — though the effect size was small.

But reading Harry Potter also engendered opposition to Trump in ways that surpassed the effect of these two themes.

"It may simply be too difficult for Harry Potter readers to ignore the similarities between Trump and the power-hungry Voldemort," she writes.
Not killing terrorists is … a positive thing? France and Germany, in particular, might have something to say about that, now, considering current events.
Mutz points out that Potter author J.K. Rowling is an outspoken "pro-unity" advocate, having voiced anti-Brexit and anti-Trump views.
How horrible. Voldemort was nowhere near as bad. https://t.co/hFO0XmOpPH

— J.K. Rowling (@jk_rowling) December 8, 2015
MORE: Prof says Harry Potter helped Obama get elected
MORE: Q&A: Yale professor talks 'holy' Harry Potter
Like The College Fix on Facebook / Follow us on Twitter
IMAGE: Twitter