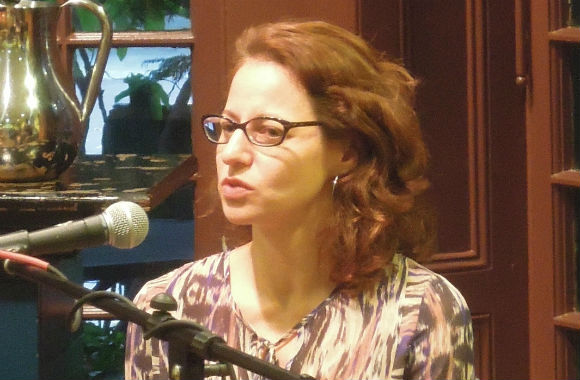 Feminists demand UVA president punish the dean for 'victim blaming'
The source of Rolling Stone's retracted story on gang rape at the University of Virginia, "Jackie," will be forced to turn over some of her communications as part of a defamation lawsuit against the magazine.
Considering motions by Associate Dean of Students Nicole Eramo, a federal judge in Virginia said in court Tuesday that Jackie's communications with Rolling Stone and "A Rape on Campus" author Sabrina Rubin Erdely "likely would be integral" to Eramo's case, The Washington Post reported.
Judge Glen Conrad said he's still mulling whether to require Jackie to turn over communications with her friends and family "related to the article," the Post said.
Feminist organizations had earlier accused Eramo – and the university itself – of "victim blaming" for trying to force Jackie to turn over documents deemed by Eramo's counsel to be "highly relevant" to her $7.5 million lawsuit.
Jackie mostly fears 'being exposed as a liar'
Eramo was portrayed in "A Rape on Campus" as trying to convince the former UVA student – who has remained unnamed by mainstream media organizations – to not formally report her alleged rape, which Eramo claims harmed her reputation and career at UVA.
In her latest filing last week, Eramo said Jackie was not really concerned about her privacy when she refused to provide such documents, but rather fears "being exposed as a liar" whose "own momentous and injurious falsehoods will be revealed."
The National Organization for Women released an open letter to UVA President Teresa Sullivan following Eramo's filing, apparently calling for Eramo to be punished for asking a judge to bring Jackie out of the shadows.
The filings by a UVA official can only be seen "as occurring with the approval and participation of the university," said the letter, signed by NOW President Terry O'Neill, Virginia NOW President Diana Egozcue and Tannis Fuller of Charlottesville NOW.
"Your dean's demands recite nearly every false argument made to undermine victims of sexual assault," according to the letter. "It is exactly this kind of victim blaming and shaming that fosters rape culture, re-victimizes those brave enough to have come forward, and silences countless other victims."
The NOW officials asked Sullivan to "take the necessary steps to put a stop to these actions," which include Eramo's request for Jackie to produce "years of her most private, personal communications" with not only friends but UVA's "campus survivor support group," the letter said.
NOW did not respond to The College Fix's request to clarify whether it was asking for Eramo's termination or lesser action.
'I have always believed Jackie'
President O'Neill told The Daily Progress of Charlottesville that she still supports Jackie's claims: "I have always believed Jackie" but the trauma could have affected Jackie's memory. "They are ratcheting up the promotion of rape culture and slut-shaming with these filings," O'Neill said of Eramo's latest filing.
Without opposing action by Sullivan, who is "responsible" for Eramo's messages, female students will learn that "if you get raped at UVa and you file a report on it, you are fair game to be viciously attacked years after the attack if the administration feels it is in their best interest," O'Neill said.
When the Charlottesville Police and Columbia Graduate School of Journalism conducted their own investigation into Jackie's case, they found that Jackie reported drastically different details to each person she confided in and even fabricated text messages.
Eramo's filing says her counsel repeatedly contacted Jackie, trying to arrange more meetings with her and the Charlottesville Police, to which Jackie never responded.
Only Jackie's communications can answer "the disputed issues" in the defamation suit, Eramo's filing said.
Not only is the former student "a central witness in this case" who "put herself in that position of her own volition," but her counsel has not provided "any substantiation whatsoever that Jackie was the victim of a sexual assault on September 28, 2012," as told in "A Rape on Campus," according to the filing.
In addition to Eramo's suit, current and former brothers of the Phi Kappa Psi fraternity filed their own suits against Rolling Stone.
Not identifying accusers undermines 'society's attempts to deal effectively with rape'
Media organizations' continued refusal to fully identify Jackie, whose "identity is already public" as noted in Eramo's filing, was the subject of a column by Washington Post media reporter Paul Farhi this week.
Though concealing alleged rape victims' identities "is in keeping with a long-standing journalistic convention" of treating rape differently than any other "class of crime involving adults," Jackie's story "has been shown repeatedly to be false," Farhi wrote.
He noted that Geneva Overholser, the editor of the Des Moines Register when it won the Pulitzer Prize for a series on a named rape victim, has written that shielding alleged rape victims "has consistently undermined society's attempts to deal effectively with rape."
Naming accused people while hiding their accusers also "implies that we know what party deserves protection when someone brings charges of rape," Overholser told Farhi.
Like The College Fix on Facebook / Follow us on Twitter
IMAGE: kellywritershouse/Flickr, Cavalier Daily/YouTube