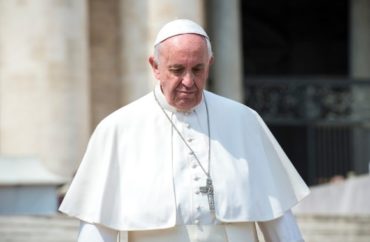 Boston College falsely implies that Pope Francis said everyone must get vaccinated
Boston College officials are manifestly in defiance of Pope Francis and the Vatican with the school's new vaccine mandate.
Under the new policy, every student, staff member and professor must receive vaccination against COVID — even though a Vatican office has already said that all vaccines "must be voluntary."
"Exemptions are considered for legitimate medical and religious reasons," BC spokesperson Ed Hayward told the Boston Herald. "A religious exemption may be granted if vaccination goes against the fundamental tenets of a faith," but that does not apply to Catholic students.
Every COVID vaccine currently available in the United States has been tested or created using aborted fetal tissue cell lines.
"Given that Pope Francis, Cardinal Sean [O'Malley, of the Archdiocese of Boston] and millions of Catholics worldwide have been vaccinated, it is difficult for Catholics to make an argument against a COVID-19 vaccination," Hayward said.
But this is in direct defiance of what the Congregation for the Doctrine of the Faith said about COVID-19 vaccines. The CDF answers doctrinal questions and gives guidance on behalf of the Pope and the Vatican.
The CDF said in December that "practical reason makes evident that vaccination is not, as a rule, a moral obligation and that, therefore, it must be voluntary." People who choose not to get vaccinated should take other precautionary steps to keep others safe.
Students at minimal risk and most of the city is vaccinated
It's difficult for Boston College to make the argument for mandatory vaccines in a city where almost 66 percent of individuals have received at least one dose and at an institution comprised of young people who are at a minimal risk of adverse reaction to COVID.
Hayward did not respond to an emailed request for comment on the morning of July 15 on the university's interpretation of the CDF document.
The College Fix also asked if granting exemptions to non-Catholic students gave Protestant and Muslim students, as an example, more rights than Catholics.
Several bishops have come out against mandatory vaccination. Bishop Thomas Paprocki of Springfield, Illinois rebuked Notre Dame for requiring students to take a vaccine. Bishop Paprocki is an adjunct instructor at the Catholic university in Indiana.
Bishop Joseph Strickland of Tyler, Texas has told his flock "to reject any vaccine that uses the remains of aborted children in research, testing, development or production."
Creighton University, a Jesuit college in Nebraska, has also barred any religious exemptions to the COVID jab.
MORE: Community college withdraws vaccine mandate after nine days
IMAGE: AM113/Shutterstock.com
Like The College Fix on Facebook / Follow us on Twitter