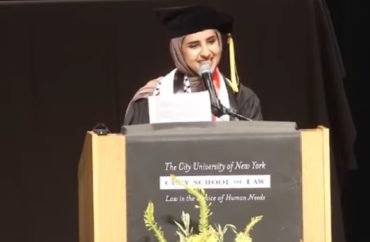 'Dean Setty should have been immediately terminated upon descending from the stage after standing for and applauding that vitriolic speech,' professor says
The dean of the City University of New York School of Law should lose her position because she allowed a student to give a speech that "bordered on incitement to violence against Zionist Jews and Capitalists," according to a Jewish advocacy group.
Professor Jeffrey Lax made the comments to The College Fix after inquiries about a demand from a group he co-founded which is called Students and Faculty for Equality at CUNY.
Dean Sudha Setty "should have been fired the moment she stood for and applauded Ms. Mohammed's speech which bordered on incitement to violence against Zionist Jews and Capitalists," Professor Lax told The Fix via email.
Fatima Mohammed's graduation speech drew criticism from both New York City Democratic Mayor Eric Adams and Republican Senator Ted Cruz of Texas as well as other Jewish groups, as previously reported by The Fix.
The student speaker (pictured), chosen by her peers, used the speech to criticize the university for listening to "investors" when it came to the issue of Israel and "Zionism." The law "continues" to "oppress" and "suppress" people in America and "around the world," she said.
Mohammed has stood by her speech. "I would not change a single word of my speech — and I would say it louder," she told Jewish Currents in June.
The Fix emailed Dean Setty to ask her for comment on the demands from SAFE CUNY as well her thoughts on the controversy surrounding the graduation speech. She did not respond to two requests for comment sent in the past three weeks.
CUNY's media relations team also did not respond to requests for comment on the petition and how the school could work to make both Jewish and Muslim students feel welcome on campus. Spokeswoman Elise Billing responded on July 11 to the inquiry but she did not respond to another request for comment on July 12.
Lax told The Fix that CUNY officials should have known ahead of time what the student would say. Lax made his comments in response to a question from The Fix about possible objections to a professor being punished for the speech of a student.
"This was a teachable moment for Setty and all of the legal scholars on that stage," the professor said. "When they heard speech that very well could have incited violence, they had an obligation as lawyers and legal scholars to step in and educate Ms. Mohammed and every student in attendance the difference between protected speech and unprotected incitement to violence."
"Again, this student already had a history of spewing venomous language at a rally where a Jewish person was violently and brutally attacked," Lax said.
His comments were in reference to a rally in New York last year led by Mohammed and Nerdeen Kiswani.
Kiswani also delivered a graduation speech in 2022 at CUNY Law, which was similarly criticized.
The rally, where a Jewish man was assaulted, occurred just three weeks prior to Kiswani's graduation speech, according to the Times of Israel.
"That rally did lead to violence against a Jewish victim. Instead of taking precautions to protect its students, and especially its Jews, CUNY School of Law praised Kiswani and now the school and Dean Setty stand proudly behind Mohammed's hate, vitriol, and dangerous language," Lax told The Fix. "More Jews will get hurt at or because of CUNY Law's bigoted and violence-inciting incubator."
"It's time for the American Bar Association or New York State to shut them down and ensure that no one else gets hurt and Dean Setty should have been immediately terminated upon descending from the stage after standing for and applauding that vitriolic speech."
MORE: Conservative Israeli scholar at Princeton targeted with cancel campaign
IMAGE: CUNY School of Law/YouTube
Like The College Fix on Facebook / Follow us on Twitter