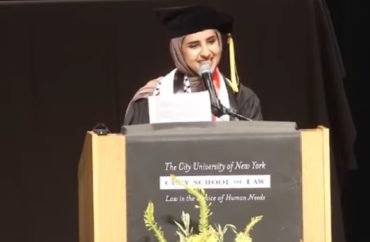 Her speech was widely condemned for her attacks on Israel
"The law is a manifestation of white supremacy," according to a graduation speaker hosted by City University of New York School of Law.
Graduating student Fatima Mohammed made these comments during the May 12 ceremony, although the university originally removed the video only to repost it on May 24. The school shut off comments on YouTube.
Mohammed also used the speech to criticize the university for listening to "investors" when it came to the issue of Israel and "Zionism."
The law "continues" to "oppress" and "suppress" people in America and "around the world," the daughter of Yemeni immigrants said.
Mohammed, addressing her fellow grads, said they "joined this institution" to learn how to fight against the "facade of legal neutrality" and to support activists and organizers in fighting against the "systems of oppression." She ended her speech by saying that other "empires of destruction" had also "fallen."
The law students were trained to fight "systems of oppression created to feed an empire with a ravenous appetite for destruction and violence."
During her speech, the speaker criticized the imprisonment of members of the Holy Land Foundation, an ostensible charity deemed by a federal judge to have connections to terrorist group Hamas.
She then transitioned to thanking CUNY law school for being one of the few institutions that let students speak out against "Israeli settler colonialism," including the passage of "boycott, divestment and sanctions" by both students and faculty.
Mohammed continued to criticize Israel for "murdering" "worshipers." She also called the New York Police Department "fascist" and urged her peers to fight for a "revolution."
The speaker also claimed that people were murdered daily at Rikers Island prison – a New York Times article on May 17 identified 14 deaths so far this year.
"No one person will save the world. No single movement will liberate the masses," the law graduate said. "Those who [bear the] brunt [of] the ferocity of the violence, those who carry the revolution, the people, the masses … those who need our protection. They will carry this revolution."
Mohammed also criticized Mayor Eric Adams and Senator Chuck Schumer, both Democrats, for their comments that she said "dignified" the death of Jordan Neely, a homeless black man killed on a city train by Daniel Penny.
"Video showed Penny putting Neely in a chokehold on May 1 following outbursts from Neely on an F train. Several witnesses observed Neely making threats, [assistant district attorney Joshua Steinglass told the judge," according to ABC News.
"May we rejoice in the corners of our New York City bedroom apartments and dining tables, may it be fuel for the fight against capitalism, racism, imperialism, and Zionism around the world," she also said.
The speech drew widespread condemnation from across the political spectrum. Mayor Adams, who was in attendance, criticized the speech for "divisiveness." Some members of the crowd booed him during his earlier comments after he referenced his police experience.
"City University of New York class day speaker slanders Israel & enthusiastically celebrates antisemitism," Senator Ted Cruz tweeted. "Cheers on open borders & releasing violent criminals from jail."
"Once again the CUNY Law School commencement speech by the student body elected commencement speaker was incendiary anti-Israel propaganda," the Jewish Community Relations of New York wrote. Last year a graduation speaker, Nerdeen Kiswani, also faced criticism for the student's views on Israel.
Mohammed has a documented history of posting comments about Zionists burning in Hell and in fire in general, according to the pro-Israel Canary Mission.
CUNY has faced criticism for allegations of antisemitism, as previously reported by The College Fix.
MORE: GWU professor faces investigation for antisemitism
IMAGE: CUNY School of Law/YouTube
Like The College Fix on Facebook / Follow us on Twitter