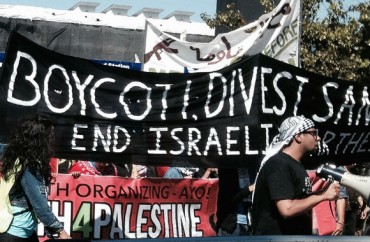 'Viewpoint neutrality' conflicts with government's own rules?
Anti-Israel forces at UCLA drove away Milan Chatterjee, the former Graduate Students Association president, because he made GSA funding of a diversity event contingent on the organizers not associating with the boycott, divestment and sanctions (BDS) movement.
Months before Chatterjee publicly announced he was leaving UCLA for New York University because of a "hostile and unsafe campus climate" against him, the campus chapter of Students for Justice in Palestine leaked a confidential administration report into his funding decision.
That act provoked two Jewish groups to demand that the Department of Education open a federal investigation into UCLA for the leak, calling it a violation of the Family Educational Rights and Privacy Act.
MORE: Pro-Palestine students demand UCLA call them 'peaceful'
The American Jewish Committee said Friday that the June 29 report – which is explicitly marked "confidential" and which says Chatterjee violated a "viewpoint neutrality" policy – counts as an "education record" under FERPA because it is disciplinary in nature.
Former @UCLA Student President #MilanChatterjee: University Administration Supports #BDS https://t.co/q39hyrN8ec pic.twitter.com/Z6YFW8h3xY

— (((Adam Milstein))) (@AdamMilstein) September 1, 2016
Though the report that was leaked has Chatterjee's name redacted, his title is not, the committee said:
The university, responding to further complaints by certain student groups, carried out an internal examination and produced a report on the matter. Inexplicably, that report, clearly marked "confidential," was shared with the complaining organizations, notwithstanding the fact that the report constituted an educational record protected by FERPA. It soon became public, in the campus newspaper, and a senior university official blogged about it on the UCLA website. Although Chatterjee's name was blocked out in the released report he was identifiable by his title.

"The identity of the student is now known by reason of the University's actions," [General Counsel Marc] Stern wrote.
MORE: BDS vote at UCLA will shut out the public, most media
Pro-Israel student group StandWithUs joined with the committee in a statement Sunday, saying it was "shocked and outraged" that UCLA released such a thinly redacted report and that the university should "immediately launch its own investigation of SJP's conduct in this matter.
Milan Chatterjee tells @Algemeiner @UCLA sets 'dangerous precedent' w/ capitulation to #BDS https://t.co/CFwa9P12x0 pic.twitter.com/rcq7MkrjD9

— Lea Speyer (@LeaRSpeyer) September 1, 2016
The campus chapter of SJP and other anti-Israel groups "have engaged in months of public attacks against Mr. Chatterjee," StandWithUs said:
No student anywhere deserves to be harassed in this manner, and especially not when striving for neutrality rather than staking out a partisan position on a controversial topic. We commend Mr. Chatterjee for standing up for his beliefs in the face of intimidation, and hope that the attacks he has faced from anti-Israel extremists are taken as a testament to his principles, rather than a stain on his reputation.
MORE: Calif. colleges have highest tally of antisemitic incidents
Chatterjee defended himself against claims that he violated university policy last fall, saying GSA was bound by the undergraduate student government's rules against funding of "religious or partisan" events because the latter was providing direct funding, whereas GSA was providing "ad hoc" funding.
Chatterjee accused SJP of lawyering up against the GSA rather than approaching him with concerns, and of "selectively" leaking information that falsely portrayed the core of the dispute.
As #India and #Israel get closer, Milan Chatterjee, a law student & GSA President @UCLA become #SJP's latest victim pic.twitter.com/gQOaMxFcTn

— (((Adam Milstein))) (@AdamMilstein) June 22, 2016
While UCLA's investigation of Chatterjee was ongoing, the conservative educational video service PragerU released a petition demanding that the university "Apologize to Milan for defaming his name, and immediately drop your prejudicial investigation." It currently has more than 11,000 signatures.
Chatterjee's Aug. 24 open letter to Chancellor Gene Block on why he left UCLA is posted in full at the Daily Bruin.
Read the American Jewish Committee and StandWithUs statements, and Chatterjee's self-defense in the Daily Bruin.
MORE: BDS activist at UCLA goes berserk after resolution fails (VIDEO)
Like The College Fix on Facebook / Follow us on Twitter
IMAGE: Alex Chis/Flickr