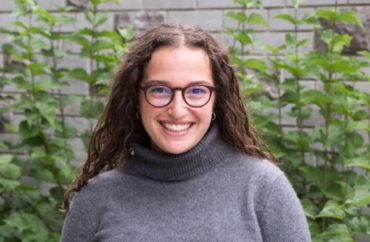 'I am Jordyn Wright, and I will not resign'
A student at McGill University and member of its student government who is going on a Hillel-sponsored trip to Israel later this month is facing the threat of impeachment upon her return — but she said she's going anyway.
Jordyn Wright said she is "outraged and disgusted" by the student government's call for her to cancel the trip in a lengthy Facebook post that said she was the target of a "witch hunt," accused many of her peers of anti-Semitism, and rejected their conflict of interest claims.
She wrote she has been given an ultimatum: "either I withdraw from the trip, or I resign from my position. If I do not resign, I am being implicitly threatened with impeachment upon my return."
McGill is a public university in Montreal, Canada, and the trip, called Face to Face, is sponsored by Hillel Montreal.
Wright told The College Fix the trip is scheduled for Dec. 29 to Jan. 8 and she is still going. She describes it online as "visiting Israel and the Palestinian territories to meet with politicians, journalists, and locals from all sides to better understand a very nuanced geopolitical conflict."
A press release published by the student government, meanwhile, argues its members aim to ensure student government representatives do not accept expensive gifts based on their status as campus leaders. Doing so "compromises their ability to be perceived as impartial when representing the entire student body on the Board of Directors."
Much of the controversy centers on a Nov. 28 student government meeting discussing the matter. According to the meeting's minutes, the main problem student leaders had with the trip is the fact it was offered free of charge, claiming the location of the trip was not an issue.
But others have chimed in to defend what Wright called "a publicly humiliating witch-hunt, repeated interrogations of my personal life, and me being placed under an intensely unfair microscope."
Eleven fellow student government members wrote in an open letter that they "believe the direction of the debate was focused on a specific member, Jordyn Wright … in a way that was startling and unwarranted. We are not surprised that Councillor Wright subsequently expressed that she felt targeted and attacked during this session, and we agree that the nature of the motion and its amendments as adopted by the session were hostile, directed, and should be a matter of wider concern."
"… We believe that on November 28 the Legislative Council rendered an ill-considered decision–a decision we believe to be a mistake. If this mistake is not rectified, it risks tarnishing the reputation of the SSMU, further problematizing the nature of political discourse within the McGill community and, ultimately, alienating whole portions of the McGill student body who have invested their faith in us and for whom we should strive everyday to better serve," the letter added.
In her Facebook post, Wright stated she was "warned about getting involved in student leadership at McGill. The toxic environment, countless scandals, prohibitive anti-Israel sentiment, and anti-Semitism have led to a tainted image of an unfriendly campus for Jews."
"Two years ago, three students were voted off of the SSMU Board of Directors simply for being Jewish or connected to pro-Israel organizations. Last year, a Political Science summer exchange course taught at the Hebrew University of Jerusalem was the source of a controversy in which pro-Israel students were harassed and cyber-bullied," she stated. "This year, I am feeling the discriminatory burden that our student politics routinely places on Jewish and pro-Israel students."
"… It is time to end this pattern of anti-Semitism deeply embedded in the SSMU that continually targets Jewish or Zionist students year after year. We must demand better of the people we elected to serve us. Science demands that I resign as a Councillor. SSMU demands that I resign as a Director. I am Jordyn Wright, and I will not resign."
Numerous members of the McGill University student government, as well as the vice president of university affairs and the vice president of internal affairs, declined or did not respond to College Fix interview requests.
MORE: Trump signs executive order to combat anti-Semitism on college campuses
IMAGE: via Facebook
Like The College Fix on Facebook / Follow us on Twitter