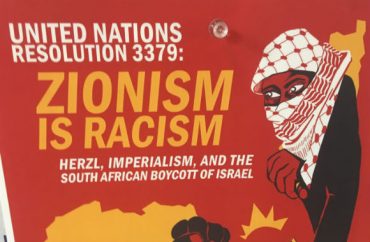 'Genderfluid' environmental activist will tell you Israel's sins
Jewish students spoke out against anti-Israel protests at Columbia University last week, calling the activists "bigoted" and ignorant of "facts" regarding the history of Israel and Palestine.
Flyers for Columbia's version of Israeli Apartheid Week, an international series of events marking the 100th anniversary of Great Britain's pledged support for a Jewish state, proclaimed that "Zionism is Racism" and Israel is "Stolen Land."
The anti-Israel events were countered by Jewish students who proudly wore shirts labeled "ZIONIST" and accused their opponents of "lies" against Israel.
The president of Columbia's main pro-Israel student organization told The College Fix that pro-Israel students "felt empowered by these shirts, and I hope they continue to refuse to be intimidated by false accusations."
One 1990s graduate of Barnard College, Columbia's affiliated women's school, told The Fix the campus environment for Jews was not hostile back then: "I never saw anti-Israel rallies."
It's as 'traumatic' as South African apartheid
An Apartheid Week "No Peace on Stolen Land" flyer invited students to "say no" to the "occupation" of Palestine, and to hear from Maile Hampton, a "genderfluid organizer and water protector" (protester against the Dakota Access Pipeline at Standing Rock).
The "Zionism is Racism" flyer invited students to "learn about Israel's racist and imperialist apartheid policies" from Barney Pityana, an early leader in South Africa's apartheid-era Black Consciousness Movement.
During his talk about the boycott, divestment and sanctions movement, Pityana called the "parallels" between South African and Israeli apartheid "not only inescapable," but also "truly traumatic" when he visited Israel, according to Columbia University Apartheid Divest (CUAD), which is pushing BDS demands on the university.
Other events included a talk with a professor titled "Natives and Colonists," and another event on "Palestine activism."
The events were organized by CUAD, a coalition between Columbia Students for Justice in Palestine (SJP) and other student groups.
'National liberation movement' for everyone but Jews
Some Jewish students did not take kindly to the apartheid events, which smeared Zionists and called Israel morally bankrupt.
"Columbia University Apartheid Divest spreads misinformation about the Israel-Palestinian conflict and is counter-productive to the peace process," Leeza Hirt, press officer for Columbia's Aryeh chapter and self-described "proud Zionist," told The Fix.
She called the "Zionism is Racism" flyer both false and "a bigoted attack on the many students on this campus who identify as Zionists."
These activists "apply a double standard to Jews" by singling out their "national liberation movement" for scorn, said Hirt, noting that even the United Nations –  "an institution that has been historically hostile to Israel" – revoked its "Zionism is Racism" resolution in 1991.
Aryeh held counter-events throughout the week, including "Demystifying the Israeli-Palestinian Conflict" and another on the link between China, U.S. and Israel.
On Feb. 27, it dispatched 50 students across campus wearing shirts that proudly declare themselves "ZIONIST."
The shirts "show that we are proud of our identity and are not afraid to stand up for what we believe in — that Jews have the same right as other nations to self-determination in our historic homeland," Aryeh President Dore Feith told The Fix.
He said that as a history major "I care about the facts" of the Israel-Palestine conflict, not the "propaganda" advanced by Apartheid Week. "Israel, is, in fact, a normal Western democratic country."
Countering the past year's demands from Columbia SJP, Aryeh is petitioning Columbia not to divest from Israeli companies.
Divestment runs against "self-determination for Israelis and Palestinians," undermines "Israel's right to exist as a Jewish and democratic state" and harms the prospects for "a peaceful solution," it reads.
Mother fears Columbia will 'indoctrinate my children' against Israel
The campus climate has some Jewish alumni uncomfortable.
Last year, Jewish newspaper The Algemeiner ranked Columbia as the "worst school for Jewish students." It cited "the extraordinarily high number of anti-Jewish incidents" on campus and Columbia's "constellation of anti-Israel groups."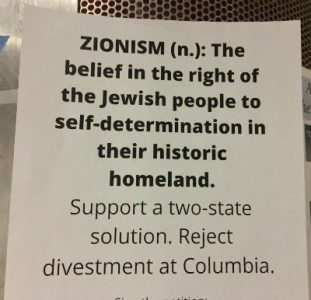 "I was a proud Zionist when I was at Barnard and never worried about expressing my love for Israel," according to a 1990s graduate who comes from a family of Columbia and Barnard graduates.
"I think that the statements made by SJP are Judeophobic," she said, asking The Fix to withhold her name so the administration wouldn't discriminate against her children if they applied for admission.
Though she would still send her children to Columbia, the day is not "far off" that she would keep them away, out of fear that Columbia will "indoctrinate my children with Judeophobia."
"What has Israel done different from any other country that Israel is deserving of boycotts, demonstrations and clubs dedicated to criticizing Israel and its policies?" she said.
Columbia SJP and CUAD did not respond to multiple queries about their perspective on the week's events. Individual club members also did not respond.
Like The College Fix on Facebook / Follow us on Twitter
IMAGES: Toni Airaksinen