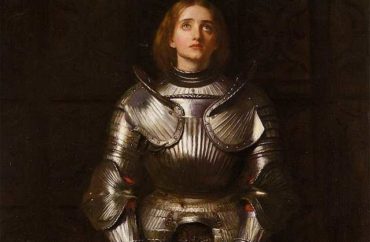 The professor and 'transgender awareness trainer' wrote an essay to accompany new Shakespeare's Globe play 'I, Joan'
A British university lecturer and "transgender awareness trainer" referred to Queen Elizabeth I and Joan of Arc with "they/them" pronouns and wrote that Joan's story shows us that "gender has never been strictly tied to the body" in an essay published August 8 on the website of Shakespeare's Globe.
Kit Heyam, whose website reads "I am a 31-year-old non-binary trans person," is a lecturer in Medieval and Early Modern Studies at Queen Mary University of London. Heyam's essay reflected on the London theater's production this summer of a new play, "I, Joan," which "tells Joan of Arc's story anew" as "alive, queer, and full of hope," according to the Globe.
Joan of Arc is considered a saint in the Catholic Church. She led soldiers, dressed in men's clothing, in battle in 1429 against the invading English, during what would later be known as the Hundred Years' War, according to History.com.
Heyam suggested that both Elizabeth I and Joan of Arc's "gender nonconformity" may have gone beyond simply assuming roles reserved to men in their historical contexts. Rather, their male role-playing may have changed their personal identities.
Queen Elizabeth I was known as the Virgin Queen.
The lecturer wrote:
The ninth-century English ruler Æthelflæd, who governed Mercia after the death of their husband, was later described as 'conducting…Armies, as if she had changed her sex': to take on a male-coded military role was, in some sense, for Æthelflæd to become male.

Elizabeth I, similarly, described themself regularly in speeches as 'king', 'queen' and 'prince', choosing strategically to emphasise their female identity or their male monarchical role at different points…

"​​When I hear Joan say, from 1431, 'It was necessary [to change clothes]', I hear echoes of myself years ago, asking to be called they rather than she, telling people, 'I don't know why, but it's what makes me happy.' "This doesn't mean I can describe the real Joan as a trans person in the same way I am…

But their story is nonetheless important to me, as it is to many other people of all genders, as a source of historical community… and as a story of someone who insisted on disrupting and challenging gender, and remained so committed to this challenge that they were prepared to die for it.
Feminist writers objected to redefining heroines as somehow not female
Feminist philosopher Jane Clare Jones said that gender ideology implies that "anyone who does 'manly' things must be a man, and anyone who does 'womanly' things must be a woman," according to The Telegraph.
"This is how we end up in a situation in which historical women who have performed traditionally 'masculine' roles end up being re-categorised as 'trans men' or 'non-binary' or 'not-women' in some way," Jones stated.
"Women and girls are entitled to reject stereotypes without losing our sex," Joan Smith, another feminist author, told The Telegraph.
"We didn't have enough female role models to start with, we have spent decades rediscovering women artists, authors, leaders. And now a regressive ideology is trying to take them away."
MORE: Harvard disinvites feminist philosopher for opposing transgender ideology
IMAGE: Wikimedia Commons Public Domain
Like The College Fix on Facebook / Follow us on Twitter