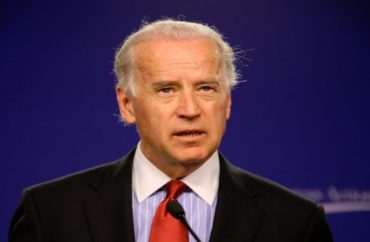 Possible 2020 Democratic presidential candidate Joe Biden is in a bit of "identity political" hot water after 40-plus year-old comments he made about school busing have resurfaced.
According to The Washington Post, made the remarks in a 1975 interview during the height of school desegregation efforts across the country, including one of the most controversial in his home state of Delaware.
In the interview, Biden dismissed government efforts to impose diversity in schools. "We've lost our bearings since the 1954 Brown vs. School Board desegregation case," he said. "To 'desegregate' is different than to 'integrate.' . . . I am philosophically opposed to quota systems. They insure mediocrity."

"The new integration plans being offered are really just quota systems to assure a certain number of blacks, Chicanos, or whatever in each school. That, to me, is the most racist concept you can come up with," Biden said. "What it says is, 'In order for your child with curly black hair, brown eyes, and dark skin to be able to learn anything, he needs to sit next to my blond-haired, blue-eyed son.' That's racist! Who the hell do we think we are, that the only way a black man or woman can learn is if they rub shoulders with my white child?" …

"I oppose busing. It's an asinine concept, the utility of which has never been proven to me," he said. "I've gotten to the point where I think our only recourse to eliminate busing may be a constitutional amendment."
To anyone but a hardcore racial identity progressive or academic, a belief that black children can only learn while being in the company of white children is racist.
But, ultimately, Biden's view lost. Delaware played host to, as then-Associate US Supreme Court Justice William Rehnquist called it, "a remedy more Draconian than ever approved by this court." Most of the state's New Castle County underwent Judge Murray Schwartz's "9-3 plan" in 1978 where students residing in the city of Wilmington would attend suburban schools for nine of their twelve school years, and suburban students would attend city schools for three of their dozen years. This plan lived on for almost 20 years, and even after being lifted in the mid-90s, districts did little to alter feeder patterns for fear of being dragged back into federal court.
The then-new US senator had said "The courts have gone overboard in their interpretation of what is required to remedy unlawful segregation."
Biden's view on Brown is the right interpretation: The landmark case does not compel forced integration through avenues like busing. As Judge Caleb M. Wright said in the Delaware Evans v. Buchanan case, "Discrimination is forbidden but integration is not compelled."
Even considering the popularity of his anti-busing stance at the time, Biden recognized the potential opening those to the left of him had — to brand him a "racist": "The unsavory part about this is when I come out against busing, as I have all along, I don't want to be mixed up with a George Wallace," he said, referring to the former segregationist governor of Alabama.
You can bet that's precisely what Joe's Democratic 2020 opponents will do if he decides to toss his hat into the presidential campaign. But Biden has the advantage; those opponents are far to the left of him on this issue. If Biden sticks to his beliefs, even if they've been tempered somewhat, he'll attract voters in the vast middle, including many Trump supporters.
MORE: School desegregation's great, liberals say — if they don't have to participate
IMAGE: Center for American Progress / Flickr.com
Like The College Fix on Facebook / Follow us on Twitter