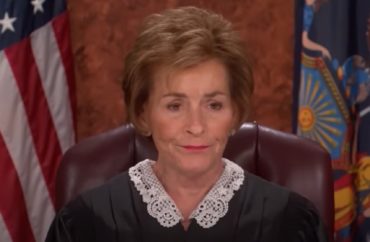 Department of Education will look into whether the program violates Title IX
The Department of Education recently launched an investigation into New York Law School for its scholarship funded by TV jurist Judge Judy Sheindlin.
The inquiry will look into the possibility that the scholarship started by NYLS alumnae Judge Judy and her daughter could violate the Civil Rights Act's prohibition against sex discrimination by universities that receive federal funding.
The Office for Civil Rights informed Mark Perry, professor emeritus of economics at the University of Michigan-Flint, that an investigation would move forward on December 7, in response to a Title IX sex discrimination complaint he filed in June against the scholarship program.
The investigation does not mean any wrongdoing has necessarily occurred.
"During the investigation, OCR is neutral; OCR will collect and analyze the evidence it needs to make a decision about the allegation," the New York office for the DOE wrote in its letter, reviewed by The Fix.
Perry said that the law school should have known better.
"It's really surprising that neither Judge Judy nor a law school filled with lawyers and a Title IX coordinator either didn't realize or weren't concerned that sex-based discrimination is illegal according to Title IX," Professor Perry told The Fix via email on December 12.
He said "sex-discrimination has been so widespread and systemic in higher education that it's been my experience that many schools aren't even aware that special preferences for females and discrimination against non-females are clear violations of Title IX." Alternatively, Perry told The Fix, "they knowingly violate Title IX because they assume they won't be challenged and incorrectly assume they are above the law when they pursue goals of social or gender justice."
The scholarship program provides "a full-tuition scholarship, a book stipend, and a 1L summer employment fellowship" for "women with excellent credentials and demonstrated financial need," according to the NYLS website. Students will also receive mentoring.
Ten recipients each school year can receive the financial support.
Perry suggested ways New York Law School could fix the problem.
He told The Fix on December 12:
[B]ased on my experience filing more than 700 Title VI and IX complaints against colleges, universities and school districts with the OCR (many for female-only scholarships and fellowships similar to the female-only Judge Judy scholarships), and being involved with more than 300 federal civil rights investigations by the OCR and more than 200 resolutions in my favor, it is my professional opinion that the NYLS can correct its Title IX violation by (a) discontinuing the female-only scholarships (not likely), (b) opening the Judge Judy scholarships to all NYLS students regardless of their sex, or (c) introducing an equivalent male-only scholarship program that accommodated an equal number of male NYLS students (10) with the same benefits of full tuition for three years, a book stipend ,and a 1L summer employment fellowship.
The Fix contacted NYLS's media team and asked for comment on the investigation and if an attorney cleared each program to ensure legal compliance, no response was received.
MORE: Minnesota college cancels no-whites-allowed luncheon after College Fix report
IMAGE: Judge Judy/YouTube
Like The College Fix on Facebook / Follow us on Twitter