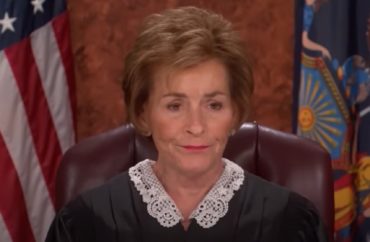 The scholarship is only open to female students
A law school program funded by TV jurist Judge Judy Sheindlin is in violation of federal law according to a professor who frequently files legal complaints.
Sheindlin and her daughter created and funded a scholarship program for women attending New York Law School, their alma mater.
Mark Perry, professor emeritus of economics at the University of Michigan-Flint, filed a complaint with the federal Department of Education's Office for Civil Rights and alleged that New York Law School's Judge Judy Sheindlin Honors Program violates Title IX of federal law.
The DOE acknowledged receipt of Perry's complaint but declined to provide an update to The Fix. Professor Perry told The Fix on July 25 that he had not received any further updates. He told The Fix "it could easily take a few months or more, sometimes a year or more, before they open an investigation."
The College Fix did not hear back on multiple emails sent in the past two weeks to the law school's media relations team and its Title IX coordinators, Nina Jody and Brian Kasbuza. The Fix inquired about the legality of the program.
According to the NYLS's website, the scholarship provides "a full-tuition scholarship, a book stipend, and a 1L summer employment fellowship" for "women with excellent credentials and demonstrated financial need." Students will also receive mentoring.
The female-only scholarship program will be given to three to four women per class, a total of ten recipients each school year.
"In this case men are a significant underrepresented minority at NYLS and women are a significant overrepresented majority of the student body, and yet it's the female students who are being targeted with special preferences and generous funding," Perry told The Fix via email.
The professor attributed this to "a prevalent narrative and mindset…where many people still think women need additional help, attention and resources that aren't available on an equal or competitive basis with men."
The law school is 62 percent female, a number that President Anthony Crowell said he is "proud" of, according to a university news release.
"I am proud that women are now the majority of our student body, and they have an extraordinary role model and champion in Judge Sheindlin," Crowell stated.
Perry also wondered why a school full of lawyers whose sole purpose is to produce attorneys did not realize this scholarship program directly violated Title IX by discriminating against males.
He told The Fix that Title IX violations are "so widespread and common" that law schools such as NYLS "either think they are above the law and think it's OK to violate federal civil rights laws with impunity, or they are just unaware that discrimination on the basis of sex and gender identity is illegal."
Perry, a frequent filer of Title IX sex and Title VI race complaints, told The Fix he believes the OCR will open an investigation.
"It's my opinion that such blatant discrimination on the basis of sex and gender identity at NYLS is legally indefensible, and the OCR will likely agree as it has multiple times before for violations of Title IX that are exactly the same," Perry told The Fix.
"Now that Title IX has been the 'law of the land' for 50 years, it's about time that schools like NYLS realize that Title IX protects the civil rights of all students, not just some students," Perry stated.
Perry suggests ways to rectify the situation
NYLS can take the first steps towards creating an equal opportunity scholarship program one of three ways, Perry told The College Fix.
"Stop accepting federal funds, like Hillsdale College in Michigan, so that it doesn't have to legally enforce Title IX," Perry suggested. However, this is unlikely as students would not "be eligible for Pell Grants and federally-insured student loans."
A more likely option would be to open the Judge Judy program to all students regardless of gender or create a similar scholarship program, "with the same amount of funding…for non-female students," Perry told The Fix.
"There is no 'unless you have good intentions' exception to Title IX and discrimination on the basis of sex and gender identity is still unlawful even if it advantages the 'right' gender categories for the 'right' reasons," he told The College Fix.
MORE: University STEM program excludes white and Asian males, complaint alleges
IMAGE: Judge Judy/YouTube
Like The College Fix on Facebook / Follow us on Twitter