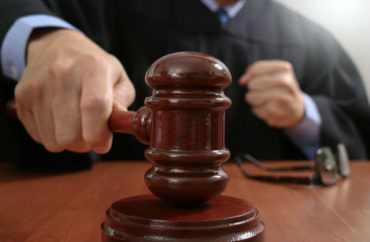 Accuser didn't even want them arrested
A.J. Johnson and Michael Williams might have been wary when the jury chosen to judge whether they raped a white athlete included no fellow African Americans, and was mostly white.
The defense already had to weed through scores of potential jurors who said "college football players are more likely to commit sexual assault than someone who doesn't play football," according to WATE.
As it turns out, the case against the former University of Tennessee football players was so weak that potential racial animus couldn't overcome it.
The jury acquitted Johnson and Williams after less than two hours of deliberations Friday, WATE reports. The station's legal analyst Greg Isaacs called it a "quintessential 'he said, she said' rape case" with a "large number of inconsistencies … a great recipe for reasonable doubt."
BREAKING: Former Vols AJ Johnson and Michael Williams found NOT guilty on all counts in rape trial. pic.twitter.com/gXMSp7RNS1

— Everything TN (@Everything_TN) July 27, 2018
The decision illustrates why anti-rape activists often discourage accusers from going to police and instead tell them to seek justice in Title IX tribunals, which have lower evidence standards, few rights granted to accused students and crushing campus pressure to convict all accused students.
It ends a nearly four-year nightmare for the football players, who claim that their white accuser willingly participated in group sex at a party.
The prosecution claimed that the accuser was "saying no, as she's trying leave," but the defense said she only called it rape after the fact when she realized "there might not be a way to keep this [group sex] secret."
MORE: Rape accusers sue UT for giving accused students due process
DEFENSE FOR AJ: "AJ Johnson is not guilty. (The accuser) is locked into a lie. She had consensual sex with AJ and Michael Williams. She was made to call 911 and that's when she became locked into her lie."

— Bridgette Bjorlo (@bridgettebjorlo) July 23, 2018
The accuser's best friend testified that she emerged from the party "crying hysterically" and hyperventilating. A teammate of the players testified that the accuser asked him what to do, and he fatefully looped in his father, a police officer, who told her to file a police report, according to WATE.
Yet the accuser herself, who testified for six hours Wednesday, said she didn't want the players arrested. She hesitated to report the incident, believing that people on campus would side with the "cool" football players and "would say I was lying about this."
The state could only imply that something nefarious happened in a series of calls and messages among coach Butch Jones, his accused players, Knoxville's police chief and senior members of UT Athletics. "The defense noted the content of those calls remains unknown," WATE reported.
Johnson told the media after Friday's acquittal that he's considering a return to football.
MORE: Doctored evidence in UNC rape case
IMAGE: everything possible/Shutterstock
Like The College Fix on Facebook / Follow us on Twitter