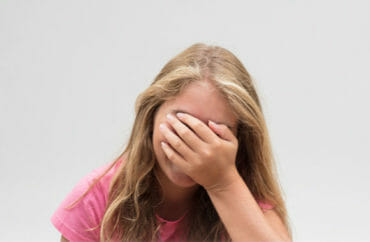 In the same league as sexual assault
The average college experience is full of uncomfortable situations, but Kentucky State University is taking a brave stand against it.
The taxpayer-funded institution includes "embarrassment" on a list of punishable "offenses against persons" in its student code of conduct, flagged this week by the Foundation for Individual Rights in Education.
It puts embarrassment in the same league as sexual assault, stalking, physical abuse and coercion.
Students suspected of this code violation will be investigated by the Office of Student Affairs and held "accountable for their behavior in a fair, yet developmental manner," the code promises.
The university will take "necessary and appropriate action" to protect students from this offense, including deploying campus police to respond to off-campus accusations of causing embarrassment.
Some form of "embarrass" actually shows up six times in the code.
KSU defines hazing as "any action that results in … embarrassment." Four elements of cyberbullying mention it: "misleading another to share embarrassing information," forwarding private messages "with the intent to … embarrass," sharing "embarrassing photos or videos" with others digitally, and "posing as an imposter online to embarrass or cause harm."
That last element confirms that KSU knows that embarrassing someone is not the same as causing them harm.
In a post recognizing Kentucky State as its "speech code of the month," FIRE Vice President of Policy Research Samantha Harris says the school claims authority to punish basic political speech:
This directly affects students' ability to engage in unfettered, free-wheeling debate and argument on important political and social issues. In the heat of a political argument or contest, people often say things to embarrass or discredit those they disagree with.
Even Thomas Jefferson called John Adams a "blind, bald, crippled toothless man" during the 1800 presidential election, Harris notes. The KSU policy figures prominently in its "red light" speech-code rating from FIRE.
The embarrassment ban is a variation of campus "decency" codes that have been struck down in federal court going back at least 45 years, she says:
As a public university, Kentucky State is legally obligated to uphold its students' First Amendment rights. Moreover, the university claims to believe that "free inquiry and free-expression are indispensable to the attainment of the educational goals of Kentucky State University." To meet both its legal and moral obligations to protect the right to free speech, Kentucky State should revise this unconstitutional policy immediately.
Read the policy and FIRE post.
MORE: Public university limits free speech to two hours a week
IMAGE: Giulio_Fornasar/Shutterstock
Like The College Fix on Facebook / Follow us on Twitter