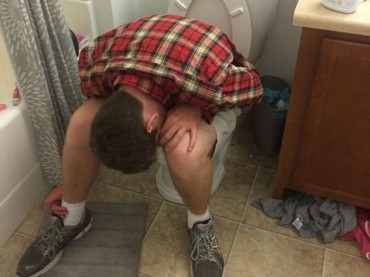 A gross new Twitter trend is causing concern among parents, college administrators and even some students.
So-called "pass out pages," specific to each college but in no way affiliated with them, are popping up on the social media site, filled with photos of inebriated students in various poses at parties and other spots on campus.
Some feature students with their heads in toilets, while others are passed out on lawns or bear sharpie tattoos or bad haircuts after a night of hard partying. Winona State University, Illinois State University, University of Georgia, Purdue University, Kansas State University and North Carolina State University are just a few of the schools represented.
@WSUPassouts on the toilet pic.twitter.com/FgiV4dYjy5

— Julz (@JulzThao) August 21, 2014
It appears most of the accounts, which are moderated anonymously, invite users to tweet photos they have taken of passed-out students to the page, and then the moderator retweets each post, sometimes with sarcastic and derogatory captions. In many photos, students' faces are clearly identifiable and many of them appear to be under 21.
@WSUPassouts doesn't live here, no one knows him. Dawg couldn't hang pic.twitter.com/zllIpPsIaH — Graham Hennessy (@telegraham507) August 23, 2014
North Carolina State University senior Drew Warash told WNCN News that he looks at the photos and has posted some, too.
"Hopefully it will teach them a lesson," Warash said. "Maybe they can learn how to hold their alcohol a little bit better and won't be in that situation again."
Holly Steffl, a junior at Minnesota State University, told NBC's Minneapolis affiliate KARE that she's not comfortable with her university's page: "It was really alarming and I thought people should know this is out there."
"@sbmcmahan93: @WolfpackPassOut Thomas's 20th bday pic.twitter.com/r3aj0bQof6" he may be pooping in his shorts

— NCSU Passouts (@WolfpackPassOut) June 21, 2014
There is little that students depicted in the photos can do to get them taken down. Twitter is under no obligation to remove the photo of a third party, said Santa Clara University law professor Eric Goldman in an email to The College Fix.
Section 230 of the Communications Decency Act, which was passed in 1996, limits the liability of websites that publish material from third parties except for copyright infringement. Under the law, Twitter cannot be held liable for the third-party content that appears on it, including ridiculous photos of drunk, and even underage, college kids.
Twitter's terms of service reflect Section 230: "All Content, whether publicly posted or privately transmitted, is the sole responsibility of the person who originated such Content. We may not monitor or control the Content posted via the Services and, we [sic] cannot take responsibility for such Content."
Translation: we're not responsible for your stupidity.
"Publishing a 'private' photo might constitute a privacy violation or a tortious infliction of emotional distress," Goldman said, meaning a student depicted in a photo could sue the user who posted it under state law. "However, successful lawsuits of that nature are exceptionally rare," he said, adding that he didn't know of any suit filed against a pass-out page.
Goldman also dispelled the notion that students who find themselves on these pages can request that their photos be removed.
"Ordinarily, the person who takes a photograph owns the copyright. So the person depicted in a photo rarely owns the copyright (unless it's a selfie)," Goldman added.
One exception could involve a student depicted in a pass-out photo acquiring the copyright from the owner – such as by paying for it – and then filing a takedown notice with the publisher, such as Twitter, Goldman said, pointing to a 2012 lawsuit in New York. But that depends on the publisher's terms of service, he said.
College Fix contributor Dominic Lynch is a student at Loyola University Chicago.
Like The College Fix on Facebook / Follow us on Twitter
IMAGE: NCSU Passouts screenshot