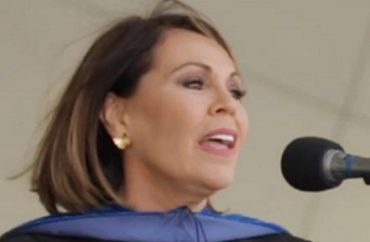 Not everyone at Cal State Fullerton's College of Communications graduation ceremony on Sunday appreciated the little swipe Univision anchor Maria Elena Salinas took at Republican presidential frontrunner Donald Trump during her speech.
"They blame us so much for so many things, that now they are even blaming us — the media — for creating Donald Trump, imagine that," Salinas said during her speech, a video of which was posted by The Washington Post.
Immediately after her comment the reactions included chuckles, yelling and boos. Chattering and shouts continued as she added: "Isn't that terrible. But we didn't. Who did it? I don't know who did it but they're to blame."
In the video, shouts from the audience can be heard here and there, and it turns out they were yelling "Get off the stage," confirmed Denise De La Cruz, a graduating senior who wrote about the incident for OC Weekly, mentioning there was tension in the crowd and plenty of hecklers.
RELATED: Professor at Catholic university asks students on final exam: Is Trump the Anti-Christ?
Things got worse after Salinas switched to Spanish during her speech for a few comments.
"If you allow me to say a few words in Spanish," she said, and someone called out "No!" the Washington Post reports. Many others cheered when she spoke in Spanish, the video shows.
Some students blamed the tension on "racist white dudes," while other students responded that they were upset the speech seemed to focus only on one ethnicity instead of the whole class and inserted divisive politics into the speech, according to social media tweets.
Since the incident, Salinas has said "It's really sad that people can turn such a special moment into a racial war. Because it seems like that is what has happened. I don't think I insulted anyone by saying a few words in Spanish to the parents. The whole speech was directed to everyone. … I think the message is, we have to cool down the intolerance right now, we really do. This is ugly, what's happening in the country."
RELATED: Professor — Whites Losing Power, May Launch Race War Against Latinos
Like The College Fix on Facebook / Follow us on Twitter
IMAGE: Screenshot